Netherlands 2nd Most Popular Study Destination for Germans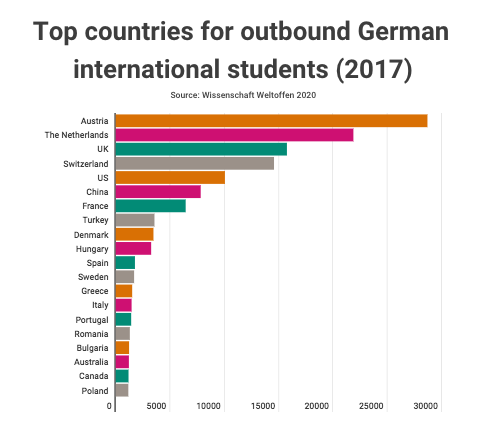 The Netherlands is the most popular study destination for German students after Austria, according to new numbers released by the German Academic Exchange Service (DAAD) and the German Centre for Higher Education Research and Science Studies. The study looks, among other things, at where Germany sources its international students from, but also at where German students go when they study abroad.
Currently, German-speaking Austria is the country of choice for German students (25%), followed by the Netherlands (16%), the UK (11%) and Switzerland (10%). It is expected that due to Brexit the number of outbound German students to the UK will decline - possibly benefitting other countries, including the Netherlands.
At the same time, while the numbers of German students in Switzerland and the Netherlands decreased slightly between 2014 – 2017  (–2% in each case), for the UK (+ 3%) and especially Austria (+ 7%) there was an increase over the same period.
What programmes do Germans choose when they do study abroad? In the Netherlands, as in such countries as Australia, Ireland, Spain and Portugal, the most popular programmes are economics, business administration and law - as opposed to eastern European countries like Hungary, Poland and the Czech Republic where health and social affairs studies are popular. This is possibly due to the admissions restrictions for medical courses which exist in Germany.
In 2019, over 94,000 international students were enrolled in a Dutch university. About 64,138 international students were doing bachelor's degrees and 30,098 were undertaking master's degrees, according to Nuffic. Germany is the biggest source country of international students for the Netherlands.
Source: PIE News
WUP 2/12/2020
by James Wittenborg
©WUAS Press