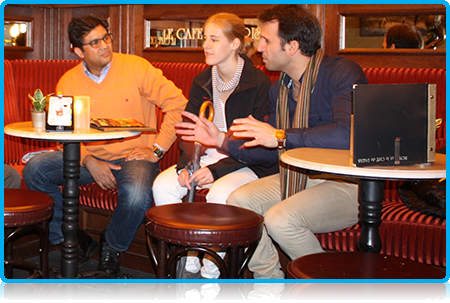 Four master-level students had the opportunity to visit hotels in the Apeldoorn-region last week as part of the Master of Science International Hospitality Management program they are following at WUAS.
The program is jointly delivered by Wittenborg and the University of Brighton in the UK. The group was accompanied by Wittenborg director, Peter Birdsall, who was project lecturer for the module "Critical Perspectives in Hospitality".
The project was entitled "An Entrepreneurial Approach to Hospitality Learning" and saw the four students paying a visit to two 3-star hotels and one 4-star hotel in and around Apeldoorn.
The aim of the project was to critically explore entrepreneurial ideas in the hospitality industry and to develop an understanding of the issues, trends and managerial imperatives facing entrepreneurial organizations in the industry.
The hotels visited were the Hotel et le Café de Paris in the centre of town as well as the Hampshire Hotel and the Hotel Cantharel van der Valk. Students learned about the positive aspects of the Apeldoorn environment for the hospitality business as well as the negative aspects.
At the Hotel et le Café de Paris the manager, Larissa van der Vlist, was questioned about marketing strategies - particularly the effectiveness of online initiatives - as well as how to attract and retain high quality staff members in the hospitality industry. She stressed the fact that spotting "commercially minded" employees with a knack for sales was important to the organization. Besides providing accommodation, the establishment also runs two dining rooms.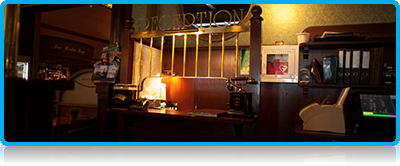 Though keeping a competitive edge was one of the aims at the hotel, Van der Vlist pointed out that restaurants on the square where they are located, often work together on events. On the question of expanding, she said the matter should always be thoroughly investigated rather than acting on impulse. "Sometimes you don't have to be greedy. If what you have works, it works."
One of the students, Nikolaos Anthrakidis from Greece, said the trip was very interesting. "Each of the hotels has a different approach in appealing to their markets."
According to Anthrakidis he chose Wittenborg because it is international. "I am working in an international company and I like the cooperation between Wittenborg and Brighton."
He also thinks obtaining a master-degree is worth the effort. "Because of the economic crisis, the competition is very high. Having a higher education affords you more opportunities."
Though he dislikes the weather, he plans to stay in the Netherlands for at least five years and will pursue a career in the hospitality sector. "What I like about the Netherlands is that everything is so organized. There is routine and there is schedule. Everything is under control."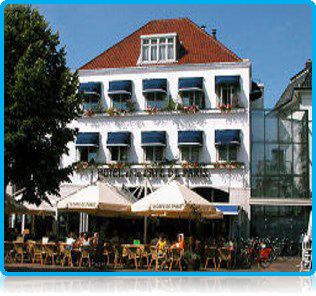 Thanks to Hotel de Paris in Apeldoorn - http://www.paris.nl
Left - Hotel de Paris in Apeldoorn where lecturers from the University of Brighton stay when they come to teach on WUAS Master programmes!
WUP 21/11/2013
Interview by Anesca Smith
©WUAS Press