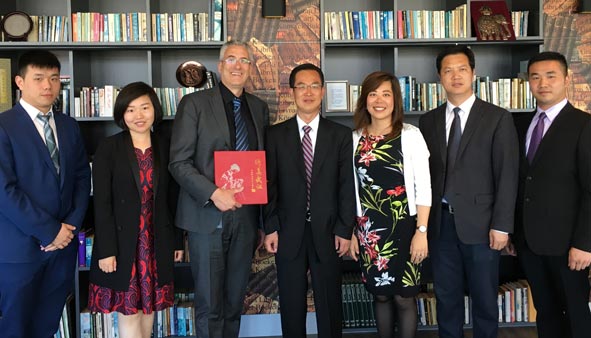 Representatives from Wuhan Business University in China visited WUAS this week for further talks on cooperation opportunities between the two institutes.
Discussions focused on a top-up study programme that allows for Bachelor students from Wuhan to come to Apeldoorn to do accelerated degrees at Wittenborg, and for Bachelor students to enter Master degree programmes. The cooperation will be in the area of business administration, smart industry, hospitality and tourism.
This follows Wittenborg CEO Maggie Feng's recent visit to Wuhan and other institutes of higher education in China to foster relations. Wuhan is the first to return the visit.
Feng went to China in March as part of a trade mission led by the Gelderland province. She was accompanied by Michiel Scheffer, D66 member of Gelderland's provincial executive, Apeldoorn councillor Alderman Johan Kruithof and representatives from the Full Sports Group (FSG).
T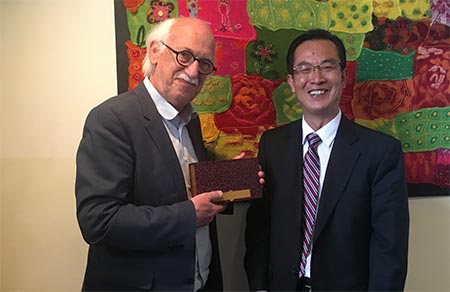 he Chinese delegation from Wuhan was led by Buyue Sun, vice-president, and 4 colleagues. Feng said there was also talk of a summer course and a short exchange programme for students and scholars from the two universities. "The idea is to form a long-term relationship."
Wuhan Business University (WBU) is an HBO-level institute with more than 10,000 students and offers degree programmes in 11 study areas, including hospitality, equestrian sports, art and management.
The delegation also met Kruithof at the Apeldoorn city hall and visited the FSG campus as well as the Dutch Royal Racecourse.
WUP 27/5/2017
by Anesca Smith
©WUAS Press