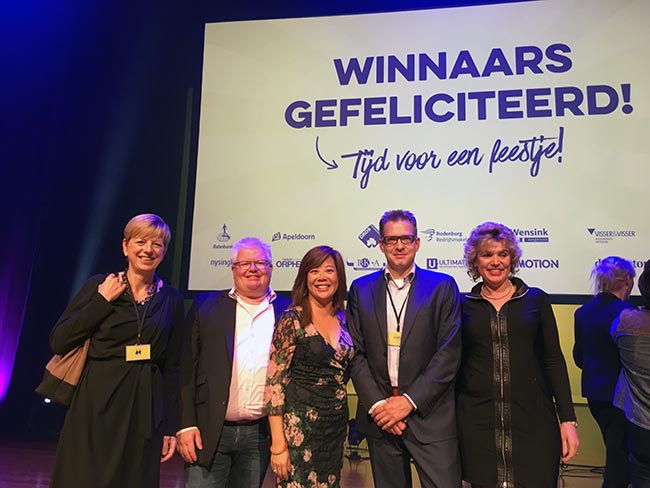 An evening of innovation and passion was experienced by more than 60 representatives of the Apeldoorn economy as the city recognized some of its best companies this week at the Apeldoorn Business Awards, held at the Orphhuis theatre in the centre of town.
A diverse selection of companies represented the best of Apeldoorn's innovative and stong business sector, covering the areas of retail, tourism, hospitality, service sector, industry and technology, and for the first time also pubic service NGO's. Start-ups were also included.
A jury of 5, representing Apeldoorn's companies and organisations, chose the six winners, based on a range of criteria, including the financial position and stability of the company, and driving factors such as innovation, sustainability (green) policies, its human resource policies, collaborations with others, a contribution to the Apeldoorn economy and its long-term stability. Of course, a main factor was the company's unique selling point (USP).
From the original 60 candidates, 18 were chosen in 5 different sections:





Industry & Technology Companies

1. Avantes (Winner)

2. Kiwa Technology

3. Tomra (Winner of the general public's vote)




Non-government social organisations

1. Foenix (Winner)

2. Parc Spelderholt

3. Kidscollege Apeldoorn




Start-up Companies

1. Bast bbq

2. City Side Appartments (Winner)

3. Mansion24




Service Sector Companies

1. AUTHENTICT - ICT mét autisme

2. A-vision (Winner)

3. Aannemingsbedrijf Draisma




Tourism Companies

1. Camping De Pampel (Winner)

2. Landal Miggelenberg

3. Classic Events




Retail & Hospitality Companies

1. Stappenbelt (Winner)

2. Zebra Trends

3. Oxener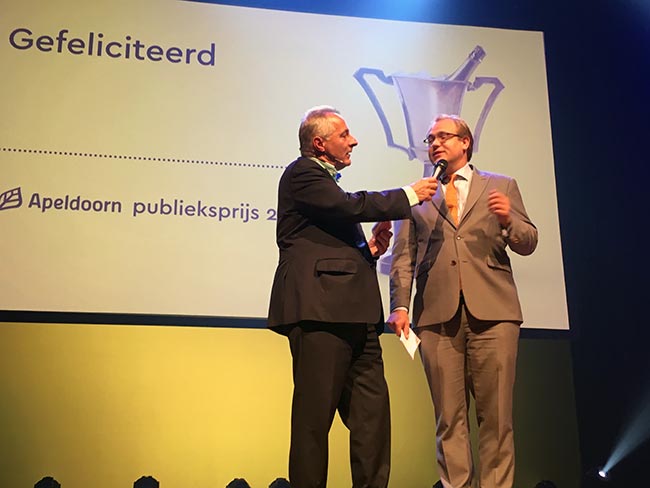 WUAS was represented in the jury by its CEO Maggie Feng. Feng commented that the visits to each company had been intense, but highly inspiring, and that making the decisions about who should come out as winner had been extremely difficult as the 'level' was so high.
Participation in the Apeldoorn Business Awards jury gives Wittenborg the opportunity to broaden its company network and insights into what is required of its students in the market, as well as being able to establish contacts for company visits, work placements and graduation research assignments for its bachelor's, master's and MBA students.
The evening awards ceremony on Thursday was hosted by former Dutch hockey player, and well known radio and TV presenter, Tom van't Hek, and the Gemeente Apeldoorn was represented by the Alderman Mark Sandman.
WUP 8/10/2016
by Anesca Smith
©WUAS Press