Wittenborg looks back at another successful workshop event at Neso Russia
Wittenborg looks back at another successful workshop event at Neso Russia
After the successful workshop event last May in Brazil, this month WUAS travelled to Moscow to give another powerful workshop on Presentation Skills and Sales Techniques.
Organized together with Neso Russia, this event took place at the NESO office at the Margarita Rudomino State Library for Foreign Literature.
For a select group of motivated students, alumni and recruitment representatives, Wittenborg's International Sales Director, Tim Birdsall, demonstrated its effective teaching methodology.
As described by Birdsall: "With the knowledge and experience from Wittenborg's Corporate Development arm, this training has an extremely high impact for new and experienced presenters, especially when they have not practiced the theory before".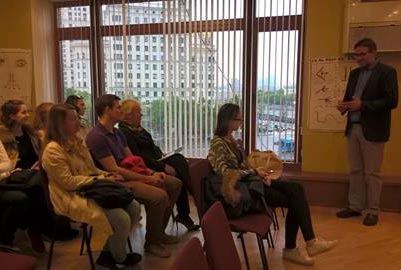 Participants of the event reacted enthusiastically. The Neso Russia team enjoyed the workshop and called it an "inspiring evening".
After the workshop, students learnt about the exciting opportunities that Wittenborg offers its students, giving insights into the quality and the attractiveness of public and private Dutch higher education for international students.
Birdsall has been running presentation skills, sales and leadership workshops in multi-national companies for over 20 years (clients include IBM, Bayer, BASF, and Roche Diagnostics & Henkel). Tim lives in Vienna, Austria, where Wittenborg is opening its first international campus in August 2017 and leads the Wittenborg Corporate Development arm.
WUP 06/06/2017
by James Wittenborg
©WUAS Press