"Ultimately I want to Make a Career of Sport Business Management"
She has modelled for international brands like Chanel and Adidas, graced the pages of fashion magazines like Vogue Italia and Harper Bazaar, has 12,000 followers on Instagram, and is a professional tennis player.
Now Chinese student Yudu Zeng has embarked on the journey towards an MSc degree in Sport Business Management at WUAS. The programme is jointly offered by Wittenborg's main education partner, the University of Brighton in the UK.
At 1.77 meters she towers over her fellow Chinese back home in the south of China where she was raised, but here in the Netherlands it is a different story. "I guess I am just of average height here," she laughs. "Both my parents are quite tall." Internationally she has been presented by IMG Models and METRO Models. According to their website she was first scouted in Shanghai and has not looked back since.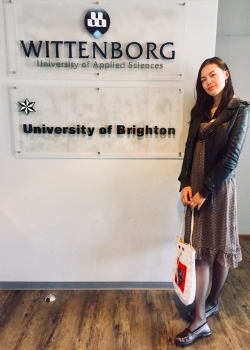 At the time of the interview Yudu had barely been in The Netherlands for 10 days, but already made quite an effort to learn a few Dutch words – politely greeting Wittenborg staff in the notoriously hard-to-grasp language. Before coming to the Netherlands she completed a bachelor's degree in sports training at Beijing Sport University.
"Initially I wanted to study in Norway, but could not find a sport management programme which suited me. Wittenborg is exactly what I was looking for in terms of that because its programme is also international. I managed to get admitted just in time and the staff were really helpful. So far I like the Netherlands a lot. The environment is beautiful, the people are friendly and there are a lot of sport-related activities."
Studying sports business management is a natural choice for her and what she ultimately wants to make a career of. "I started playing tennis when I was 8 years old. This year, I got certified by the United States Professional Tennis Association. I love sport – I can't imagine a life without it. Life is all about movement."
WUP 27/10/2018
by Anesca Smith
©WUAS Press