Even the weather played along when MSc students from WUAS made their way to the UK this weekend. All-in-all, 12 students from 10 different countries took part in the annual trip, which included a visit to Wittenborg's main education partner, the University of Brighton in the UK, from which the students will graduate upon completion of their programmes.
"The UK trip was a great opportunity to bond with my fellow colleagues and explore new places together. I had such an enjoyable experience with this super fun group!" said Malaysian student Nadia Zaman. They were accompanied by Wittenborg's Head of Processing Tutoring, Myra Qiu.
The group consisted of students from the programmes Master International Hospitality Management, Master International Tourism Management and Master in Sport Business Management. On their first day they visited Brighton at its Eastbourne campus where they were shown around the building, met with lecturers and various other activities. For the rest of the 4-day trip there were group activities in Brighton as well as London, such as visiting the Natural History Museum, the London Eye and Big Ben. One of the sport business students also visited the home stadium of British football club Chelsea FC.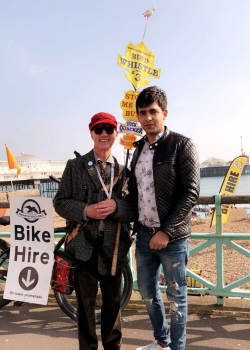 Brazilian student, Renan Roma, said: "The MSc trip to UK was awesome. It was a great opportunity to visit Brighton University and to have a good time with my classmates."
Sinan Colasan from Turkey thanked Qiu and Wittenborg staff for organising the trip: "We all really enjoyed it."
Nigerian student Emelda Obewu said: "Traveling to the UK as a group was indeed a pleasant experience. I had a nice time with the fun MSc group and also enjoyed the free time to do things on my own. Big thanks to Myra for her flexibility as well as support."
WUP 17/4/2018
by James Wittenborg
©WUAS Press