Wolfie Makes Surprise Visit to Wittenborg Ahead of Giro d'Italia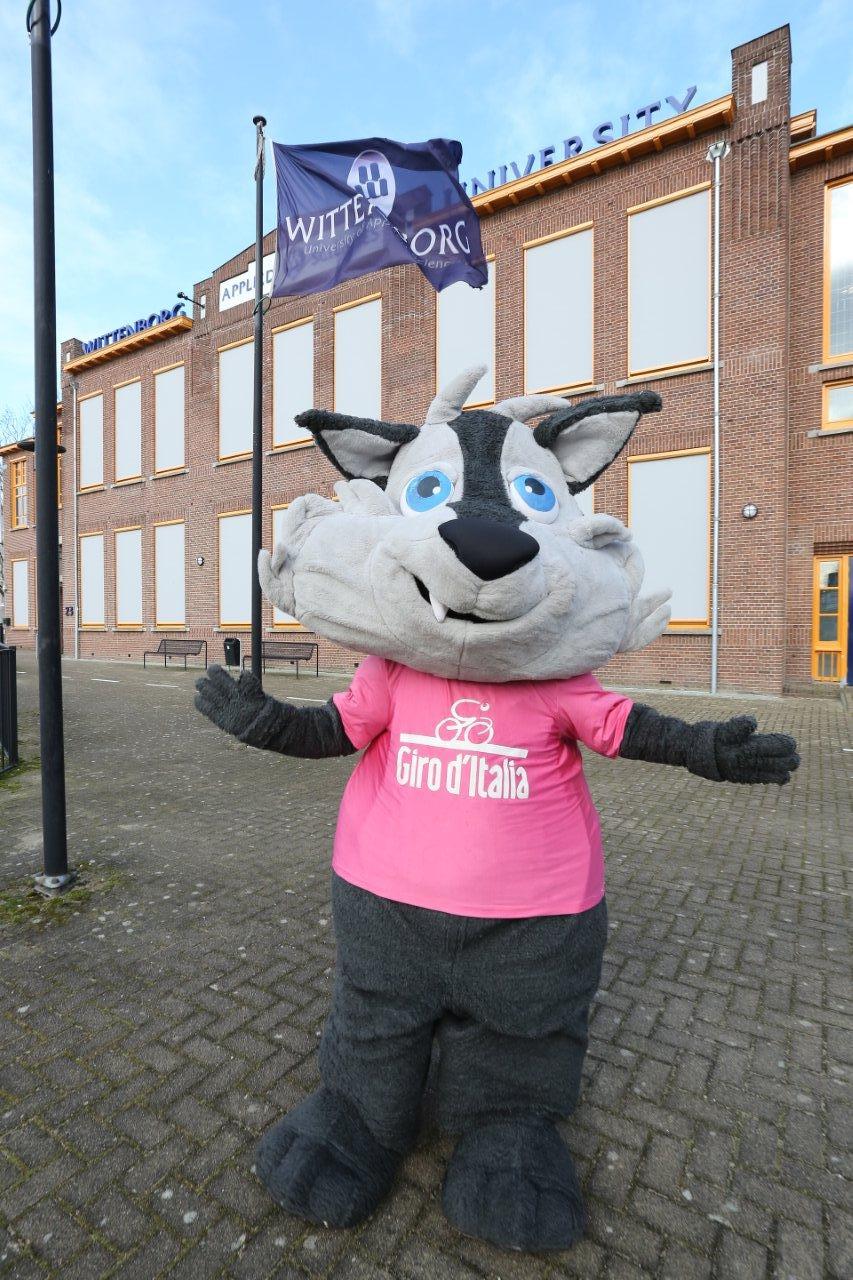 WUAS recently received a very special visitor – Lupo Wolfie, mascot of the Giro d'Italia 2016 which is one of the biggest cycling races in the world. On 6 May the race kicks off in the Velodrome Omnisport in Apeldoorn, the city where Wittenborg is located.
Wolfie was in town to drum up support ahead of the Giro d'Italia, so of course he had to look in on one of the most international universities in the Netherlands. He admired Wittenborg's new Spoorstraat building, which was opened last year and especially provides an education centre for the Master degree programmes offerred jontly with the University of Brighton.
Wittenborg offers Master programmes in Tourism, Hospitality and Event Management - however in September 2016 wil launch a Master of Science in Sports Business Management, as well as an bachelors' IBA in Sport Business.
The race will be preceded by a side event on 12 March in Apeldoorn, the Giro Fiets Campus, of which Wittenborg is one of the organizers in cooperation with Radboud University and the Hogeschool Arnhem Nijmegen (HAN).
Wolfie started his tour of Apeldoorn on Thursday with some coffee, made pizza with the organizer of the pizza del giro contest and wobbled on the Segway at Mediamarkt. He also received a pink bouquet (the official colour of the race) from Intratuin and lots of cuddles at various businesses in Apeldoorn.
The Giro d'Italia draws more than 800 million viewers from 175 countries every year. The province of Gelderland plays host to the first three stages of the races in respectively Apeldoorn, Arnhem and Nijmegen on 6, 7 and 8 May.
More information on the Giro d'Italia 2016 event can be found here.
More information on the degree programme Master of Science in Sports Business Management can be found here
WUP 29/2/2016
by Anesca Smith