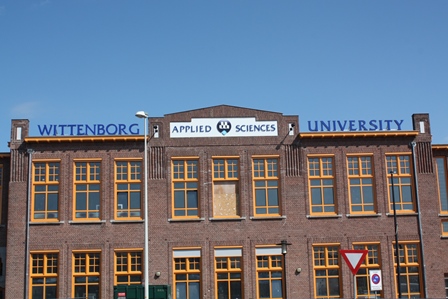 It only takes around four and a half minutes to cross under the station from Wittenborg's main campus situated on the south side of the railway in its Aventus location, to the new Spoorstraat location situated on the north side of the train and bus station.
Since April, local Apeldoorn companies have been hard at work, renovating the 100 year old former Catholic boys school into a modern and representative location for WUAS's postgraduate programmes and research centre. Last week the lettering was mounted on top of the building, allowing the outside world to be made aware of Wittenborg's expansion.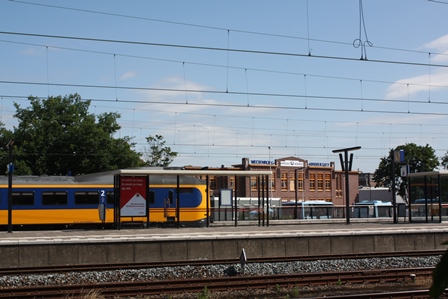 The grand opening of the Spoorstraat will take place on 28th of August at the end of the Introduction Week for new students, and will allow friends and relations of Wittenborg, and of course students and staff to see the new facility for themselves.
The Spoorstraat will house Wittenborg's growing library and media centre, and most of the teaching done there will be for the Master programmes in Event Management, International Hospitality and in Tourism. Also the MBA programmes will be delivered at the Spoorstraat, making use of the more flexible opening times available there. From 2016 two new Master variants will be offered : an MBA in Clean Technology and a Master of Science in Sports Business & Management.
Bachelor students will also regularly be able to take the walk from the Aventus building to the Spoorstraat, as they will be able to collect and return all their text books at the library facility. All language classes will be offered at the Spoorstraat and Bachelor student exams will all take place in the examination facility there - 8 exam weeks a year!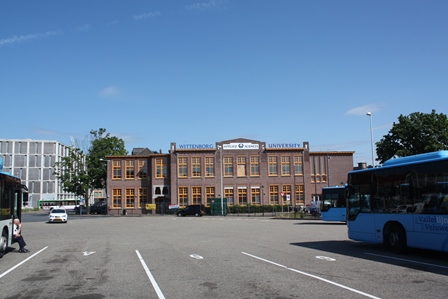 Finally, Wittenborg's Admissions and Student Registrar's office will move to the Spoorstraat, so all students registered at WUAS will be able to deal with their official matters there.
Wittenborg is also currently opening a new location in Amsterdam where it will be offering its Bachelor IBA in Entrepreneurship & Small Business, from the autumn.
WUP 13/7/2015
by James & the WUP Team