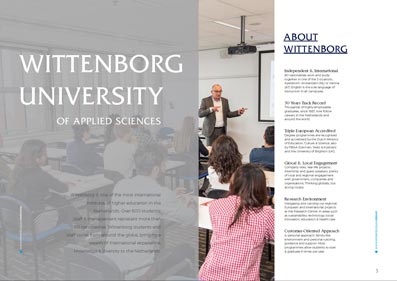 Thanks to a great team of collaborators, Wittenborg's brand new brochures are finally here!
They have already been showcased in Moscow at the recent ICEF Education Fair, and in China during Wittenborg CEO Maggie Feng's trade mission trip.
Wittenborg's senior communication officer, Sinem Gulsen, said: "It's been a while since the last brochure in booklet style. We were using leaflets, but agreed that it is time for a change. We wanted a new feel and look: airy, bright and showing Wittenborg's diversity and international learning environment."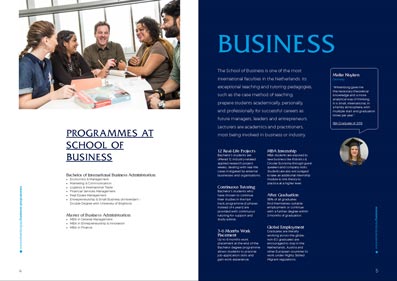 Gulsen thanked students and staff who gamely took part in the photography session to modernize the brochure. "We had a professional photoshoot day with photographer Renée Krijgsman and asked students and staff to 'model' for us. We had a lot of fun and we are happy with the look of the new brochure."
There were also other contributors. "The first meeting was with our designer, Mariëlle Leussink from Studio Paf, back in November last year. We have been working with Mariëlle for years now and she immediately understood what we had in mind. We made a plan and came up with a deadline. Thanks to the quick service provided by the print company Totdrukwerk, we had our new brochures ready on time.
WUP 13/4/2017
by Anesca Smith
©WUAS Press