Chance to Interact with Top Academic and Hospitality Insiders
WUAS is hoping to bring the prestigious Hospitality and Tourism Educators Conference, EuroCHRIE, back to the Netherlands for the first time in 10 years. The last time it was held here was in 2010.
EuroCHRIE 2020?
This is according to Wittenborg CEO, Maggie Feng who just returned from the 2019 APaCHRIE and EuroCHRIE Conference in Hong Kong - remarkable for the fact that it was the first time the two conferences were held jointly. Officially EuroCHRIE stands for "The European Council on Hotel, Restaurant & Institutional Education". APaCHRIE is the Asian-Pacific equivalent.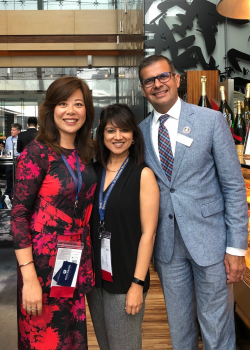 The event brought together more than 700 educators, researchers, deans, and industry representatives in one of Hong Kong's top hotels, Hotel ICON. It was hosted by the Hong Kong Polytechnic University's School of Hotel and Tourism Management who counts Hollywood star, Jackie Chan, as one of its faculty members.
According to Feng the conference is 'the place to be' if you want to interact with top academic and industry insiders learn the latest teaching techniques and technology within the hospitality and tourism sector. Feng herself serves as area consultant and representative for EuroCHRIE in the Benelux (Belgium, Netherlands and Luxembourg).
The conference provided delegates the opportunity to exchange ideas and information to consolidate research and expectations in the industry. Feng said it was also great to see and learn how a conference like this is being run.
WUP 2/6/2019
by James Wittenborg
©WUAS Press