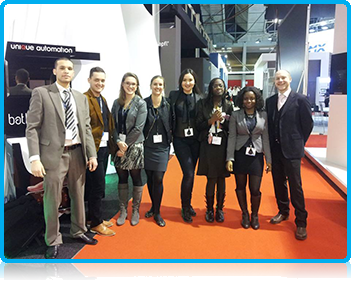 WUAS's students attended one of Europe's largest trade shows held in Amsterdam last week - the Integrated Systems Europe (ISE) Fair.
More than 950 exhibitors occupied 36 000 net square meters in the Dutch trade centre RAI in Amsterdam, displaying the latest technology in the professional AV and electronic systems industry.
Eight of WUAS's students acted as sales assistants to Unique Automation, a London based company who appreciated the extra hands at a show attended by more than 45,000 people. For the students it presented an opportunity to telly up valuable study credits as the trip served as a project week task while they got to gawk at the latest, mind-blowing electronic innovations as well as networking with leading business people.
Unique Automation focuses on the increasing demands for automation in non-typical areas of automation - like the bathroom for instance! So with a click of a button you can fill your bah to the perfect level, even adding bubbles and perfumes. Or what about a television in the bathroom which doubles up as stylish mirror when switched off?
A big topic of discussion was saving energy, especially as part of designing "smart" buildings.
Independent lighting designer, Tad Trylski, said Google just spent $3,2 million on Nest, which makes smart thermostats, smoke detectors and door openers, showing that "data will be the business driver" he said. "Sensors are the key to the future for everything, to which smart phones will be connected."
​WUP9/2/2014
©WUAS Press