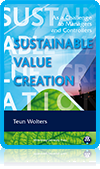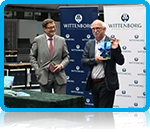 WUP 6/6/2013 - WUAS senior lecturer Dr Teun Wolters, today launched the publication of his new book 'Sustainable Value Creation as a Challenge to Controllers and Managers'- a first for Wittenborg, Apeldoorn's international management University of Applied Sciences.
Thursday June 6th, Apeldoorn City Hall – WUAS's Dr. Teun Wolters proudly introduced his latest book, 'Sustainable Value Creation as a Challenge to Controllers and Managers' ,to Alderman Johan Kruithof of the Apeldoorn Municipality as well as a congregation of students, lecturers and business associates.
Alderman Johan Kruithof was pleased to receive the first copy of the book and after congratulating Dr. Wolters and Wittenborg, he reiterated the positive effect that institutes of higher education have on the region's development. He hopes more publications will be produced by WUAS Press which will promote interaction between researchers, academics and professionals in the region. WUAS's director Peter Birdsall highlighted the special nature of the event noting that "As a small, privately-funded institute, it is not often that Wittenborg has been given the chance to publish a textbook which will be used in one of its Bachelor modules." Staff and students of WUAS are looking forward to reading and studying Dr. Wolters' book and hope that it will be adopted by universities and academic institutes around the world.
Dr. Wolters' book addresses a number of key issues such as strategies to achieve sustainability, corporate governance, environmental management & accounting, sustainable supply chains and the Green Economy. Sustainable Value Creation challenges the status-quo, explains the problems, explores a variety of related topics and unites its underlying themes by posing the fundamental question: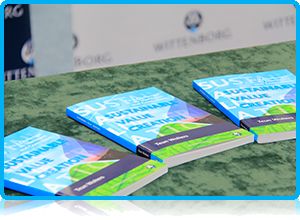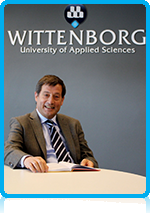 'How can we ensure that those who take ultimate responsibility for running a company, along with their future managers and finance controllers, devise production and promotion strategies to meet the challenges of global markets while observing international guidelines and regulations designed to protect our future on Planet Earth?'
Dr. Wolters resides in Apeldoorn and joined WUAS when the institute relocated from Deventer in 2010. As a senior lecturer, he has developed the Bachelor's and Master's programmes to address the issues of sustainability and corporate governance. Dr. Wolters also plays a key role in developing research projects as part of the Wittenborg Research Centre, which has enabled WUAS to publish this English-written textbook, a first for WUAS Press.
To purchase the book:
Sustainable Value Creation as a Challenge to Controllers and Managers was published by WUAS Press (WUP) in cooperation with Uitgeverij Gelderland and is available through Amazon and their website (in Dutch). http://www.uitgeverijgelderland.nl/
More information on the book, and on other articles can be found at our website: http://www.wittenborg.eu
WUP 6/6/2013
WUAS Press 2013