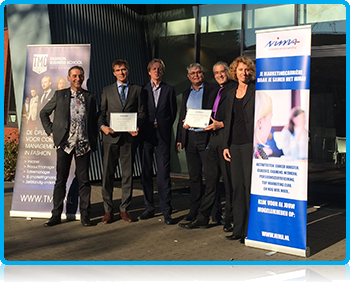 As of this week WUAS can add another feather to its cap – it has today signed an agreement to become an Education Partner with the Netherlands Institute for Marketing (NIMA), which is the professional association and exam institute in the field of marketing. WUAS's IBA programmes in Economics & Management, Marketing & Communication & Hospitality Management have been awarded a NIMA accreditation for the marketing modules in the bachelor degree programme. The accreditation was awarded from 1 August 2014.
The NIMA accreditation of the programmes was a joint effort; Wittenborg worked together with its NRTO partner TMO Fashion Business School in Doorn, to achieve this agreement, first in Dutch higher education.
Wittenborg Director, Peter Birdsall, who signed the agreement this afternoon at TMO Fashion Business School's campus in Doorn, said: "NIMA has a great reputation in the Netherlands as a quality stamp for marketing professionals and internationally they are developing their marketing qualifications. WUAS, with its 400 students representing 60 different nationalities, can now provide students with an extra quality benchmark as well as promoting business and management around the world."

Birdsall also commented on the collaboration with the Fashion Business School, "Wittenborg and TMO have had a friendly relationship for a few years now, however this jointly achieved agreement with NIMA marks the start of a more closer relationship in the development of programmes and education partnerships between our two institutes."
Partnering with NIMA provides an industry certification of marketing and Wittenborg's marketing content has been validated as equivalent to NIMA B1. The screening of module content and the sharing of knowledge with lecturers are key elements of the Education Partnership.
For students the certification, which is an independent mark of skills quality, distinguishes them as having attained a certain level of quality education in the field of marketing.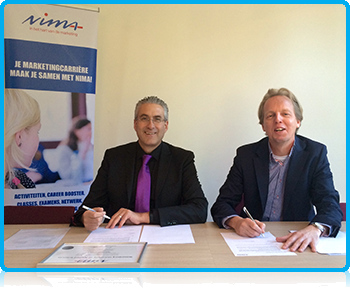 Marketing is a key element in business management and all Wittenborg's International Business Administration (IBA) programmes incorporates marketing modules from Phase 1 to Phase 3. These includes subjects such as Modern Principles of Marketing, Strategic Marketing, Marketing Research and Marketing Mix. Additional emphasis are placed on principles of the field for students following the IBA in Marketing & Communication.
NIMA is a member of the European Marketing Confederation (EMC) and its exams are internationally accredited by the EMC against the European Qualification Framework.
WUAS's Bachelor IBA programmes are nationally accredited by the German, Austrian & Swiss FIBAA and the Dutch and Belgian NVAO.
WUP 21/11/2014
©WUAS Press
by Anesca Smith
Links:
NIMA http://www.nima.nl/english