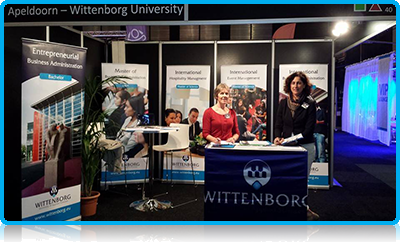 Last week Wittenborg was one of the exhibitors at the Education Fair in Eindhoven. Around one-hundred Educational Institutes were represented at the Fair, ranging from vocational education to universities, both privately funded and subsidized. The three representatives of Wittenborg were pleasantly surprised by the size and scope of the Fair. Around 21.000 Dutch students (and parents) have visited the fair.
" The Eindhoven Fair was a great success. Many students and parents from the South of the Netherlands have visited our stand. Most of the interested students were attracted by the broad bachelor in International Business Administration. The first year of this Bachelor course is the same for all students, after the first year they decide on a specialization. This allows students who find it difficult to choose to extend their choice with one more year. Besides that the Bachelor programme allows students to finish in 3 years instead of 4 years. All in all the Fair was a good experience and the Marketing team is ready for the coming two fairs in Groningen and Zwolle".
After a great two-day education fair in Eindhoven the Wittenborg Representatives are already packing for their next fair. This Friday and Saturday Wittenborg will be attending the Education Fair in Groningen Martiniplaza.
WUP 3/10/2014