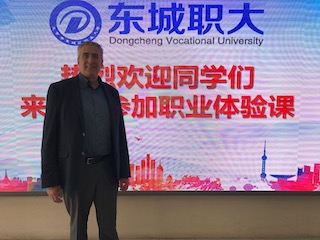 Beijing Dongcheng Vocational University, based in the Dongcheng district of China's capital city is predominantly focused on adult learning and also hosts the local Community College as well as the local branch of the Beijing Open University.
With a population of over 1 million, Dongcheng district covers the eastern half of Beijing's urban core, the 'Old City' (around 40 km2).
WUAS directors Peter Birdsall and Maggie Feng (CEO) were given a tour of the facilities of its main campus building, before having a discussion on possible collaboration with the institutes President, Professor Zhang Yannong, and Associate Professor Jin Yan.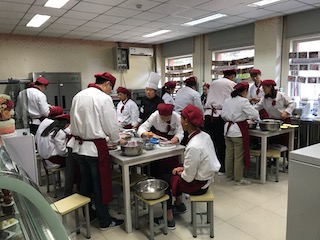 The institute boasts a number of interesting practical learning facilities, especially in the area of hospitality management, where students can simulate the various functions of hotel and restaurant management, in for instance food and beverages.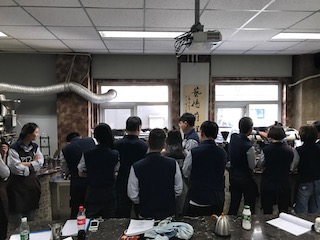 The outstanding computer facilities, where network simulations could take place, and the facilities for online classrooms (made possible by real-time filming of teaching and students), were introduced by the institutes' industry partner, Mr Guo, who outlined the special relationship that Dongcheng Vocational University has with its main commercial partner 'BECU' who in turn supports the very special relationship with the Chinese internet giant Baidu. Baidu trains many of its staff at institutes like Dongcheng Vocational University, and actively supports the concept of Life Long Learning that these vocational higher education institutes engage in.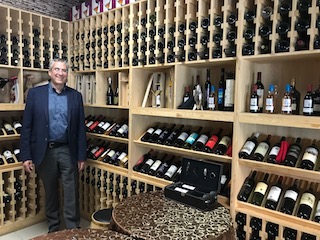 The Dongcheng team explained that each district in Beijing has a similar vocational higher education institute, and that most classes are taken in the evenings and at the weekends by a student population that is generally working during the day. Most students study part-time.
The university has no internationalisation policy at this time, however is investigating what aspects of international partnerships could best suit their student's needs, within the framework of part-time, vocational based learning, and in a life-long learning concept.
According to CEO Feng, "Wittenborg has shown interest to help them with its internationalisation development, and is looking forward to working with Beijing Dongcheng Vocational University to achieve their goals".
Links:
WUP 28/4/2017
by P.J Wedgewood