More than 100 staff members of WUAS gathered at a glittering event on Friday to ring in the new year during the Annual Staff Dinner with their partners.
This year was significant as it marked the end of a decade, affording the opportunity to look back at the rapid progress the institution has made the past 10 years, starting with the move from Deventer to Apeldoorn in 2010 with just under 200 students. It now boasts more than 1,000, with 110 nationalities and a presence in 4 European cities - Apeldoorn, Amsterdam, Munich and Austria - with partnerships in many other countries like the UK, Australia and China.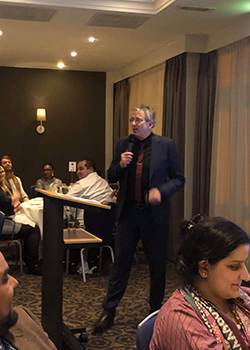 Witteborg's chair of the executive board, Peter Birdsall, ran dinner guests through some of the highlights of the second decade of the new millennium. This included Wittenborg celebrating its 30th anniversary in 2017, while continually rising in student and staff members. It also concentrated on gaining recognition and professionalising through various accreditation processes.
Birdsall said the next decade will see more development and societal impact.
He also paused to pay tribute to members of staff and students who had passed away during the past decade, including its Academic Dean, Dr Jacques Kaat. And at the same time, Birdsall delighted guests with a collage of "newcomers" - babies born to members of staff at a rapid pace over the past few years.
The dinner was held at the 4-star Bilderberg Hotel de Keizerskroon in Apeldoorn where guests dined in splendour on a delicious 3-course meal.
WUP 13/1/2020
by Anesca Smith
©WUAS Press