Open Day Master Programmes - June 26th 2014 in Apeldoorn!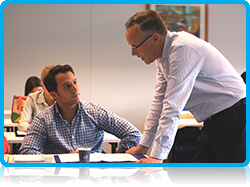 Students interested in the 3 Master Programmes in International Hospitality, International Tourism and International Event Management will all experience a dday of guest lecturers and information exchange! Sign up by contacting Nicky van Riggelen - nicky.vanriggelen@wittenborg.eu!
Open Day 26th of June: Master of Science in Event, Tourism and Hospitality Management
On Thursday the 26th of June WUAS and the University of Brighton present the MSc Open Day at the Wittenborg campus in Apeldoorn. At this event interested students get the chance to find out more about the three Master of Science programmes that Wittenborg offers in combination with the University of Brighton (UK); International Event Management, International Tourism Management and International Hospitality Management. All of these programmes will start in September this year and are offered on both a fulltime and part-time bases.
The MSc degree programmes lead to a double (UK and Dutch) MSc/Postgraduate degree. The MSc offers an academic research degree that can be finished in either 1 year (fulltime) or 2 years (part-time) and are therefore also suitable for professionals who want to combine their study with their careers.
During the open day, prospective students will get the opportunity to meet with lecturers, current students, support staff and also follow an example lecture given by Pete Odgers the MSc Porgramme Coordinator of the University of Brighton.
The Programme:
14.00 – Welcome by Peter Birdsall, Director of Studies, WUAS
14.15 - Introduction by Pete Odgers, MSc Porgramme Coordinator, University of Brighton
14.45 – Programme Information by Karin Pelle, MSc Programme Coordinator, WUAS
15.15 – Refreshment Break
15.30 – Try out Lesson + Case Study by Pete Odgers
16.30 – Meet & Greet with current MSc Students, with drinks & snacks
17.30 – Conclusion of the MSc Open Day
More information and registrations via nicky.vanriggelen@wittenborg.eu
Master in Hospitality | Master in Tourism | Master in International Event Management
WUP 22/5/2014