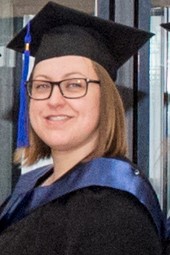 Australian graduate Katharine Smith wants to use the education she got at WUAS to help restaurants better human and environmental health in their day-to-day business.
Smith graduated from Wittenborg in February with an IBA (Bachelor) in Hospitality Management. Now she is heading to the innovative University of Gastronomic Sciences in Italy where she will do a master's degree in Gastronomy: Food of the World, Food Cultures and Mobility. She hopes to become a consultant, using the knowledge she learned from her bachelor's thesis, as well as her upcoming master's thesis, to help restaurants.
Smith, a direct-entry student, was already living in Holland and working as a payroll manager when she decided to study at Wittenborg and make a career change into hospitality with a focus on restaurants.
"I chose Wittenborg because it offers an English-taught degree with a focus on hospitality management which features subjects I was interested in, such as Business Planning, Restaurant Design and Marketing."
Her advice to current students is to start as early as possible with their graduation assignment research. "Doing a thesis is much more work than you think!"
WUP 17/5/2017
by Anesca Smith
©WUAS Press