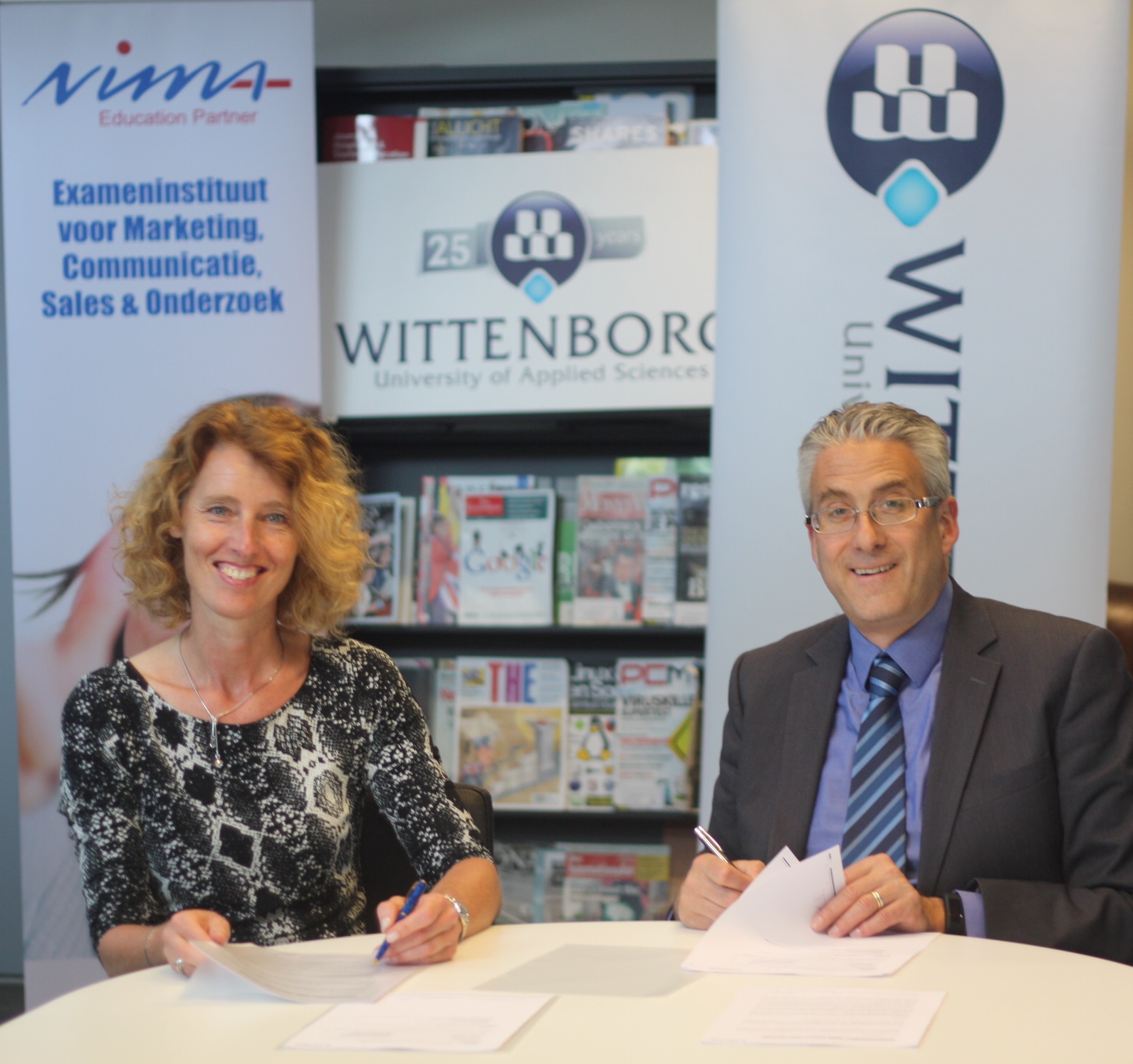 Dutch / Nederlands : Tempo-Cursus en Herkansing Nima-B 1&2 - vraag meer info aan
WUAS has signed a contract with the Netherlands Institute for Marketing (NIMA) to offer a fast tracked NIMA B1 and 2 course from September 2015. NIMA is the Dutch authoritative body and exam institute in the field of marketing
The course is aimed at middle-management professionals in marketing. The NIMA B1 (written) and B2 (oral) course is styled as a new and quicker way to prepare yourself for the NIMA B exam.
WUAS is also the first NIMA-partner who will offer a crash-course for re-takers of the NIMA B exam who did not make it the first time. About 500 people sit for the NIMA B exam each year which an estimated 30% fail.
"Our target group is middle-management," says Dr Jan Waalkens, Commercial Director at WUAS. "The competence level is equivalent to that of the first two years at a university of applied science (HBO).

"People who complete the course are officially recognized as marketing professionals and registered as such in the NIMA database which is regularly used by employers to verify the marketing quality skills of those they employ. NIMA is seen as the Dutch professional authority in the field of marketing," Waalkens said.
NIMA said on its website this unique partnership was made possible by the fact that Wittenborg lecturers already have wide experience in teaching NIMA B1 and 2.
Wittenborg already signed an agreement to become an Education Partner with NIMA in November 2014. Its IBA programmes in Economics & Management, Marketing & Communication & Hospitality Management have all been awarded a NIMA accreditation for the marketing modules in the Bachelor degree programme. The accreditation was awarded from 1 August 2014.
Wittenborg's chairperson of the Executive Board, Peter Birdsall who signed the agreement, said at the time: "NIMA has a great reputation in the Netherlands as a quality stamp for marketing professionals and internationally they are developing their marketing qualifications. WUAS, with its 400 students representing 50 different nationalities, can now provide students with an extra quality benchmark as well as promoting business and management around the world."
Marketing is a key element in business management and all Wittenborg's International Business Administration (IBA) programmes incorporates marketing modules from Phase 1 to Phase 3. These includes subjects such as Modern Principles of Marketing, Strategic Marketing, Marketing Research and Marketing Mix. Additional emphasis are placed on principles of the field for students following the IBA in Marketing & Communication.
NIMA is a member of the European Marketing Confederation (EMC) and its exams are internationally accredited by the EMC against the European Qualification Framework.
WUAS's Bachelor IBA (International Business Administration) programmes are nationally accredited by the German, Austrian & Swiss FIBAA and the Dutch and Belgian NVAO.
Dutch / Nederlands : Tempo-Cursus en Herkansing Nima-B 1&2
WUP 29/5/2015
by Anesca Smith & NIMA