Wittenborg to expand its campus this summer in line with rapid growth – Staff Visit the New Building at the Spoorstraat!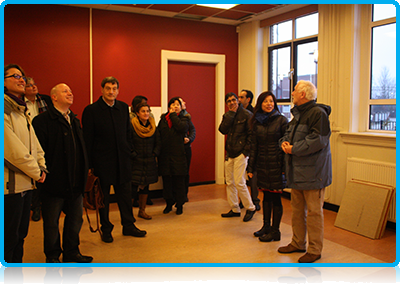 ((Watch the video - https://www.youtube.com/watch?v=ImHoNQ0kMaY)
WUAS is growing! Due to a steady rise in student numbers and rapid program developments, WUAS will expand to a new building this summer, mere minutes away from its current location near the Apeldoorn railway station.
The Spoorstraat 23 building was originally constructed in the 1920's as a junior boys' school and, although not large at just over 800 square meters, it has an excellent, visible location overlooking the central bus station and clearly visible from the railway lines running into the central railway station.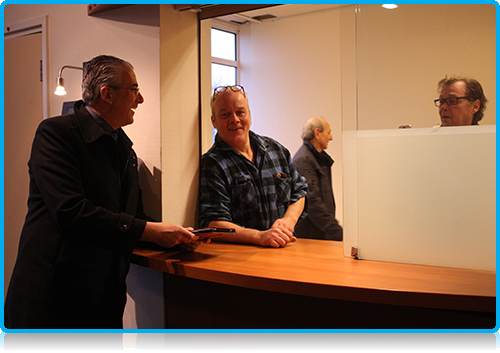 Guests, students and staff were able to get a preview of the new facilities, which are to house the university's new research campus, when they treated to a special tour by Wittenborg management recently. "We are working on having it ready by early summer," Wittenborg director, Maggie Feng said.
Staff were immensely impressed with the new facilities, which features high ceilings and airy, light-filled rooms, when they visited. The program coordinator for Wittenborg's School of Hospitality, Esther Gitonga, enthused: "I can't wait to start working from here. There is plenty of space and the building will be entirely our own."
Since its move from Deventer in 2010, Wittenborg, with its distinct international character, has been located in the right wing of the ROC Aventus building. However, even before 2010 the development of a higher education hub on the city side of the railway station stood central in Wittenborg's long term policy plans.
The Spoorstraat building, is intended to house Wittenborg's developing research centre, its library and media facilities and will provide teaching facilities for its MBA and Master of Science degree programmes
The number of new students at Wittenborg is estimated to grow by 15% annually, currently comprising of almost 400 from about 60 different nationalities. The expansion of the university's campus is in line with its ambitious plans to develop new programs at a high rate over the next few years. Last year its new MBA program was accredited and this year it will introduce a host of new Bachelor programs, including a uniquely structured IBA in Technology.
Wittenborg's new campus will be part of a new concentration of higher education in the city of Apeldoorn. It is situated next to the recently accredited University of Applied Sciences for Photography, known in Dutch as the Fotovak School (Photography Academy), and near the site on which the new Saxion University campus will be built.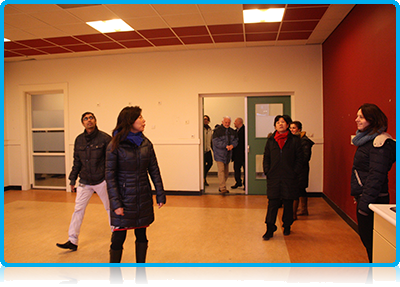 Head of the Wittenborg Business School, Abdul Rauf comments, "Although we will have to get used to opening and closing a building ourselves, a great advantage of owning our own 'front door' is that we can have more variable opening and closing times, especially in weekends. For instance, it's planned to run some of the MBA modules at weekends, and into the evenings".
Wittenborg will also fully remain in its current location, where its Bachelor programmes will be taught, however Bachelor students will regularly experience the Spoorstraat location, as the examinations will be held there in the new multi-functional hall on the second floor. The walking distance between the two locations, Aventus building and Spoorstraat Building is about 5 minutes and both are only 2 minutes from the central railway station.
Director Maggie Feng said: "The Spoorstraat building needs a full renovation and a complete overhaul to make it modern on the inside, whilst retaining its classic, school building character on the outside. We are aiming to establish 3 teaching rooms on the ground floor and convert the existing 3 of the 4 upstairs classrooms into a large multi-functional hall with a moveable wall. One of the rooms will become the library and research area.
"We expect the renovation and modernization process to be complete in late spring and are looking forward to a grand opening party sometime around June" she adds.
Wittenborg's research centre recently got a huge boost by securing a stake in the EU-funded GREAT-project (Growing Renewable Energy Applications and Technologies) which aims to encourage communities as well as small to medium size enterprises (SME's) to develop technological solutions for Smart Grid, Renewable Energy and Distributive Generation. It also promotes research and develop policy issues for regulatory authorities and provide structured co-operation opportunities between SMEs, research institutes and technology developers.
In this project, WUAS is developing economic tools to inform and encourage SME's to get further engaged in the use of green energy, stimulating investment in human capital, essential for the regional and national economy.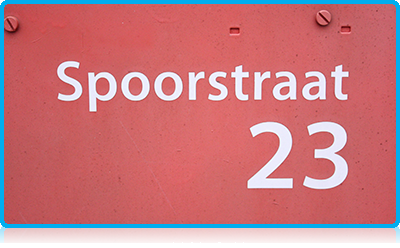 WUP 29/1/2015
©WUAS Press
by Anesca Smith