WUAS to Bring its International Expertise to Amsterdam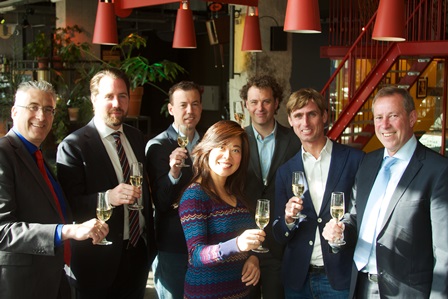 In September 2015 WUAS, proud to be one of the most international and diverse institutes in the Netherlands, will open a new campus in Amsterdam offering an IBA in Entrepreneurship and Small Business.
The academic programme will be complemented with top-notch student accommodation thanks to Wittenborg's partnership with The Student Hotel in Amsterdam. This partnership also opens the door to valuable contacts, both nationally and internationally.
The first contracts for the expansion to Amsterdam were signed on 28 April, in Amsterdam by the Executive Board and Student Hotel.
In a statement, the deputy-mayor of Amsterdam, Kajsa Ollongren, expressed how pleased the city council is with Wittenborg moving its Entrepreneurship-programme to Amsterdam. "Amsterdam is one of the world's most attractive cities to invest or start a business," Ollongren said. "The availability of highly educated international talent is an important condition for this success. Therefore we warmly welcome Higher Education Institutions, like WUAS, that attract talent and promote entrepreneurship.
Wittenborg's Chair of the Executive Board, Peter Birdsall, said: "The prospect of offering our programme in Entrepreneurship in Amsterdam is very exciting, and that we will be working with great entrepreneurial initiatives like the Student Hotel and that our project is so welcomed by the municipality of Amsterdam is an enormous boost."
Wittenborg's headquarters will remain in Apeldoorn, where the university is also growing and by this summer will boast two closely-located campuses either side of the central railway station, catering respectively for its Bachelor and Master students.
Also present at the signing was the new Dean of WUAS Amsterdam, Timo Timmerman.
Intimate Approach, Global Reach
Wittenborg is a small, privately funded university of applied science which was established in 1987. Today it provides competitive higher education in an intimate setting to almost 400 students which, together with its diverse staff component, represent more than 60 different nationalities – including many Dutch students!
It will now use this international experience and knowledge to establish itself in Amsterdam, one of the world's most cosmopolitan and creative cities – thus, ideally set to stimulate the innovative approach of Wittenborg's IBA in Entrepreneurship and Small Business.
In addition, Wittenborg has partnerships with various institutes around the world – notably the University of Brighton in the UK, a country which is globally recognized for its excellence in education – but also in Germany, France, China and Spain.
Ambitious Growth Plans
The IBA in Entrepreneurship will focus on Family Business, Corporate Entrepreneurship as well as Sales and Branding. Within 5 years Wittenborg's Amsterdam Campus is aiming to have about 300 students, 25 lecturers, more than 50 associate and guest lecturers, 10 PhD researchers and a support staff number of about 15 who will all contribute to the entrepreneurial spirit of the city of Amsterdam.
International Business Administration (IBA) programmes are accredited by the accreditation bodies NVAO (Netherlands and Belgium) as well as FIBAA (Germany, Austria and Switzerland).
Making it Official
The signing of the initial agreements with Student Hotel was signed by Maggie Feng, Director of Wittenborg and Frank Uffen (director, partnership The Student Hotel).
Uffen said: "The Student Hotel is proud to provide accommodation to the first Wittenborg students in Amsterdam. The Student Hotel will open its second facility in Amsterdam this summer, in the Parool Towers. Wittenborg students will benefit from world-class accommodation in an international setting."
WUP 29/4/2015
©WUAS Press
by Anesca Smith & Chris Wolters