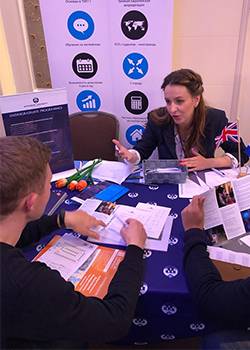 More than 1,000 Students and High-Schoolers Attend Begin Fair in Kiev
More than 1,000 prospective students recently attended the Begin Edu Fair in Kiev, Ukraine, where WUAS also participated. The event was held at the Hyatt Regency Kiev Hotel.
This fair hosted 35 international universities and welcomed more than 1,000 visitors - university students, high-schoolers and their parents.
Wittenborg was represented by Iryna Bernatska, campus manager at Wittenborg Amsterdam, who is herself originally from Ukraine. She informed potential students about undergraduate and postgraduate programmes offered by Wittenborg, admission requirements, scholarships, the cost of living, etc.
According to Bernatska, prospective students were particularly impressed with the internationalisation of Wittenborg, its six entry dates, as well as the possibility to change their bachelor's degree programme during their first year at Wittenborg should they wish to.
Bernatska noted a high interest in the undergraduate programmes, especially top-up programmes when the students directly join the final year of bachelor's programmes. Also, prospective students had a positive reaction to master's programmes that do not require work experience.
WUP 14/11/2019
by James Wittenborg
©WUAS Press