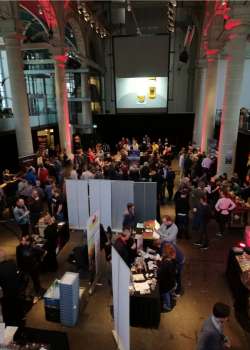 Wittenborg Student blends in well at Amsterdam Whisky Trade Fair
WUAS Press (WUP) Sales & Marketing Assistant, Rousanna Baird, got her first taste of a drinks trade fair last weekend promoting "Whisky Burn – Distilleries of Scotland by Vespa". The hardback book is published by WUP, and written by UK author Ben Birdsall.
"Whisky Burn" details the author's trip around Scotland visiting the whisky distilleries and learning about the industry – all on a 1979 classic Vespa 50! Launched at Wittenborg's Amsterdam campus late 2015, the book has surprised everybody concerned by its sales and media attention.
A total of 34 exhibitors showcased their products, including some of the big names of the business, to c.700 visitors at the one-day event. Attending the annual "Spirit of Amsterdam" on March 3rd were representatives of whisky distilleries, importers, agents and interested members of the public. "Whisky Burn" was the only book on offer at the show.
Also manning the stand was Wittenborg's Student Registrar, Santosh Aryal. The Wittenborg duo got the chance to speak to some of the people who know the industry, selling a few copies as they went along to interested connoisseurs.
Rousanna, who is studying for a bachelor's degree in Marketing & Communication at Wittenborg, is not new to trade fairs in general. "Actually," she says, "I have done this more than once, in my home country of Guyana. However, it is my second time in the Netherlands. I recently exhibited at the annual Vakantiebeurs (Holiday Expo) in Utrecht, at the beginning of January. It was huge and really left a good impression on me. I am also exhibiting in Berlin this coming weekend at the International Tourism Fair. I think it will be great! I also have plans for other exhibitions throughout the year, for instance the London Tourism Fair. Therefore, it will be quite a busy year."

Asked what benefits she sees from such events, she replied: "For me, personally, I think I benefit in terms of the exposure of being in such a diverse environment. It makes me feel alive, to talk to people, to tell stories (my favourite part), and just meeting and talking to people – getting an impression. In professional terms, I think the networking is beneficial – to be able to build my network, to meet important and influential people. At the Amsterdam festival, I even got to meet a distributor who is willing to work with us for selling the book."
Will she be attending other drinks trade fairs after this experience? Sure. The sequel, "Whiskey Burn – The Distilleries of Ireland by Vespa", is being published by WUP in June of this year, and Rousanna is already putting her sales & marketing skills to work on that project.
WUP 8/3/2018
by Ben Birdsall
©WUAS Press