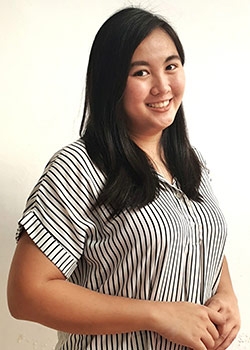 Nadia Deandra Represents Wittenborg at Online Event
Wittenborg alumna Nadia Deandra represented the institution at the Neso Indonesia Holland Scholarship Days 2022, which took place last month on 5 and 6 February online, with the goal of raising awareness about available scholarships to study in the Netherlands. The annual education fair is organised by Nuffic Neso Indonesia and includes various presentations and info sessions about the Study in Holland initiative and different scholarship programmes.

Apart from delivering a presentation, Deandra, who has completed an MSc degree in International Hospitality Management at the University of Brighton, UK, also managed Wittenborg's virtual booth. Among other topics, she provided Indonesian students with information about the school, life in the Netherlands, finances and funding.
Deandra said that she felt honoured to represent Wittenborg, highlighting that the event was interesting and informative. "I really enjoy participating in fairs like this because, apart from helping build my professional network, it is a pleasure to help students who are looking for information to study abroad."
According to Wittenborg Corporate Relations Manager Iryna Bernatska, the institution is very happy that its alumni are willing to represent it at multiple education fairs that take place each year across the world. "They share not only general information about the school, but also their unique study experience. Our alumni know better than anyone else why their compatriots should join us," she stressed.
Bernatska added that any alumni interested in representing Wittenborg in their home countries can send an email to representation@wittenborg.eu.
WUP 21/3/2022
by Ulisses Sawczuk
©WUAS Press