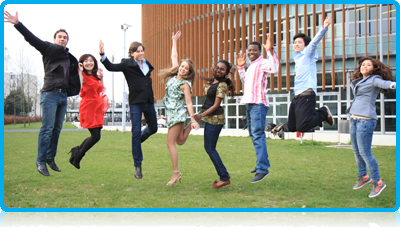 On Wednesday 29th August, an introduction day for University students will be organised in Apeldoorn, for students of WUAS, the Theological University and Saxion's Hotel School that is also situated in the city. The day has been organised by the Education Platform of Apeldoorn (Onderwijsplatform Apeldoorn), a discussion group representing the three higher education institutes together with the colleges of ROC Aventus, Fotovakschool, Helicon and Hoornbeek College.
The day's events will be launched by Alderman Johan Kruithof who will give a welcome speech to the new Apeldoorn students. The Alderman will officially launch the new Education Platform of Apeldoorn website, whose target is the students of Apeldoorn. The launch will be supported by entertainment from Holland's Got Talent finalists 'ComeCorrect, a breakdance crew from Apeldoorn.
After the opening, all students will be offered a free lunch at the City Hall, which will be followed by a game of "speed-dating" between students from the different institutions.
In the afternoon, sports have been organised at the central city park (Oranjepark) followed by a city tour, followed by a snack.
The day will be completed with a Unique University Party at discothèque Manzo situated on the Caterplein in the city centre.
All WUAS students are welcome to join the festivities!
WUP 22/08/12
©WUAS Press