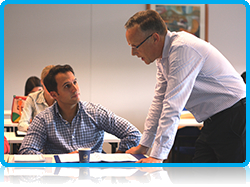 After a successful start-up last week of the Master of Science 2013-2014 programmes, the second group of visiting academics from the University of Brighton, Wittenborg's partner in the UK, have been teaching some of the programmes' modules this week.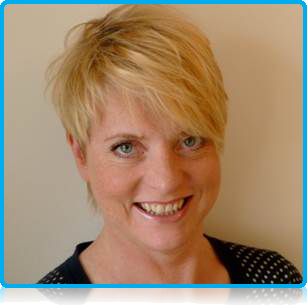 First on the schedule was Jayne Luscome, a senior lecturer at Brighton, who lectured at Wittenborg on Monday and Tuesday. Jayne holds an undergraduate degree in Economics from the University of Sussex and an MA in International Event Management from the University of Brighton. Prior to joining the University of Brighton in 2006, she worked in multi-national blue chip organizations for 15 years. She specialized in the meetings, conference and exhibition sector but was also involved in graduate recruitment and development. This professional experience enabled her to develop an appreciation of the complexities of global business environments and different cultural perspectives within the business world. Since joining the University of Brighton, she has developed the undergraduate provision in international events and now contributes to the teaching programme at both undergraduate and postgraduate levels.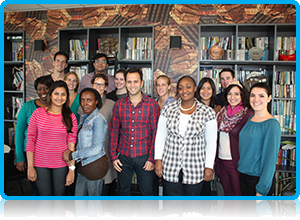 Dr. Clare Weeden was at Wittenborg on Wednesday and Thursday. She is a senior lecturer in tourism and marketing at the University of Brighton, where she has been working since 1992. Prior to her academic career Clare spent twelve years in the hospitality industry, working extensively throughout Europe and North America in a range of businesses, from five star city centre hotels (Intercontinental Hotels, Sheraton Hotels), through micro-breweries to Michelin-starred London restaurants. Through these experiences Clare developed an expertise in sales and marketing and became especially adept at understanding and managing the challenges of customer-focused organisations in a dynamic and highly competitive market. Clare was awarded her PhD in 2008 from the University of Glasgow, Scotland, where she explored the influence of personal values on the holiday choice decisions of ethical consumers. This research built on her earlier work and publications, which focused on the emergence of ethical tourism; the motivations of responsible tourists; and the competitive opportunities of ethical tourism for UK specialist tour operators. Her other publications address the environmental sustainability of cruise tourism and visuality.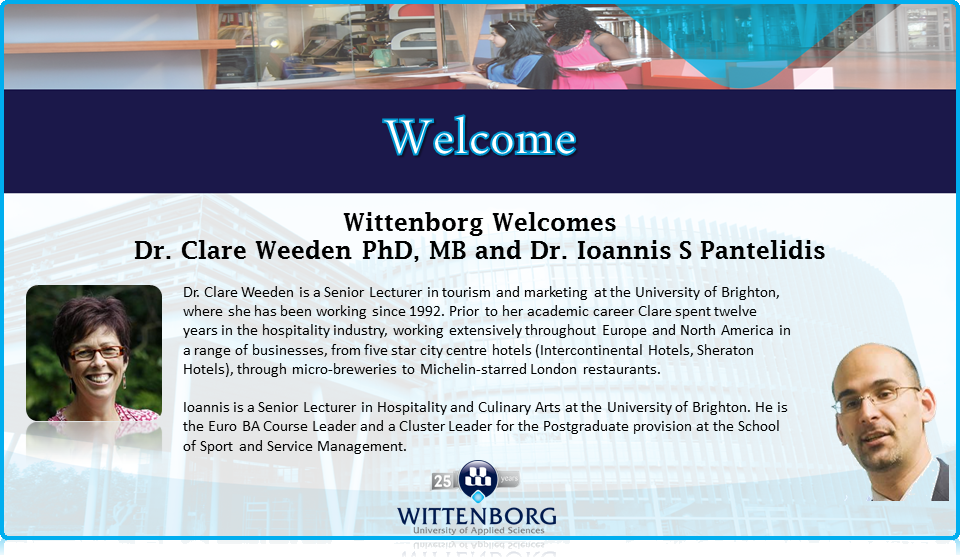 Also in attendance on Wednesday and Thursday was Dr Ioannis Pantelidis, a senior lecturer in Hospitality and Culinary Arts at the University of Brighton. He is the Euro BA Course Leader and a Cluster Leader for the Postgraduate provision at the School of Sport and Service Management. Ioannis was raised on the island of Leros and comes from a family of hoteliers and restaurateurs. Prior to his academic career, he worked in hotels and restaurants in Greece, Germany and the UK. He retains his industry links through consultancy work and collaborative projects and he regularly writes articles for industry- focused publications. He holds a Swiss Hotel Management Diploma, as well as an MSc in Tourism and Hospitality Education and a Doctor of Philosophy, both awarded by the University of Surrey. In his PhD he explored the influence of Locus of control on online technology acceptance of hostel customers. He is the editor of the Routledge Handbook of Hospitality and co-authored Food and Beverage Management also by Routledge. Ioannis is the Hospitality Editor for the Sage Journal of Tourism and Hospitality Research and a member of the editorial boards for three more academic journals. Ioannis has considerable amount of curriculum design experience and has developed and lead courses in hospitality management at both undergraduate and postgraduate level. He has provided mentorship for five student societies and has served as external examiner or validations advisor for seven universities. He is an experienced conference organizer with a track record both as lead organizer and as member of scientific committees. He has lead successful consultancy projects for hotels, restaurants, marketing companies, private clubs, tourism destinations and technology companies. He currently serves both in the executive council of the Institute of Hospitality and the executive of the Council for Hospitality Management Education.
All Master students follow a series of core modules together and then their specific subject modules depending on their specialization. Currently the most popular specialization is the Master in Event Management, followed by the Master Hospitality Management and then MSc International Tourism Management
Successful graduates will be awarded the MSc of International Hospitality Management, MSc International Event Management or MSc International Tourism Management by the University of Brighton and a Postgraduate Diploma (PGDip) by WUAS.
WUP 20/9/2013
by Anesca Smith
©WUAS Press