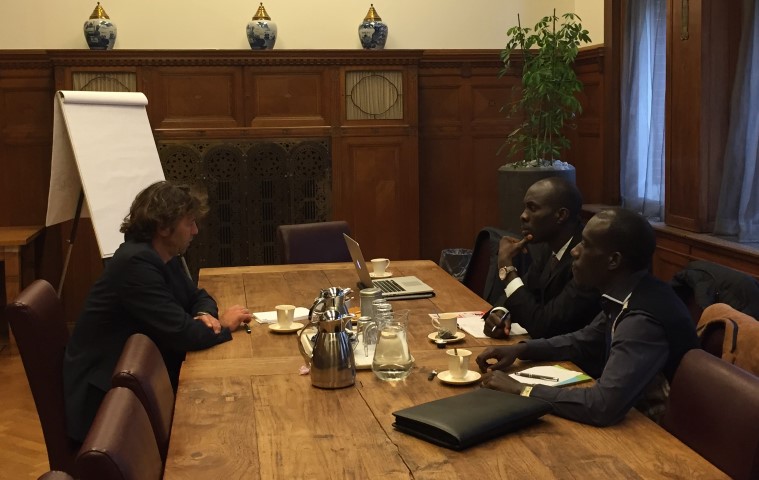 MBA students from WUAS recently visited Dutch brokerage firm, SNS Securities, which is a subsidiary of financial services company SNS Bank, as part of a Project Week assignment. SNS Securities prides itself in being a broker with ''global stature but local focus'' whose teams specializes in block trading in Dutch small- and mid-cap sectors.
The assignment was a stimulation of a hostile takeover of the Dutch company DSM by the American enterprise Dupont. The students, Albert Muhumure and Augustine Ijeh, were expected to advise Dupont. A key part of their advice was to do a valuation of DSM. They also had an opportunity to visit "the dealing room".
Window on haute finance
The students were accompanied by Wittenborg lecturer, Luis Gutiérrez. He said the visit to SNS Securities opened an interesting window to the real world of haute finance.
During the visit, students discussed the valuation of companies with top analyst Gerard Rijk who has more than 25 years of experience as an analyst within investment banks and stock brokering firms. These days Rijk covers Food & Beverage stocks for SNS Securities.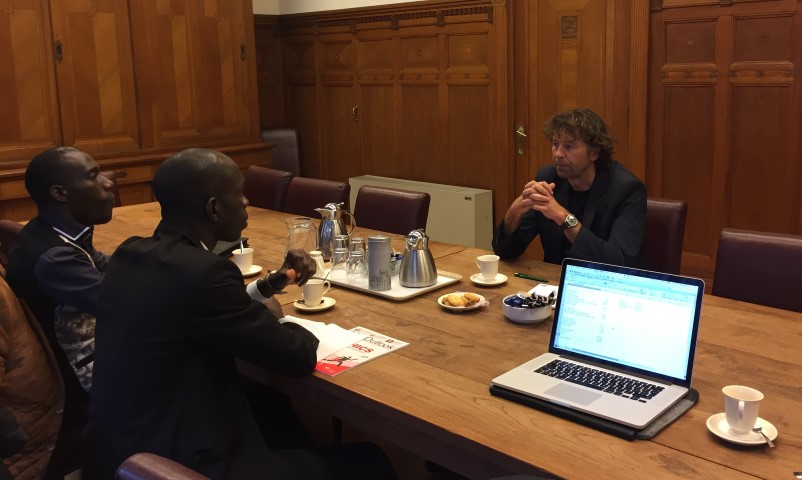 One of the conclusions of the meeting was that takeovers are very much determined by the DNA or culture of the company that does the takeover. This is also the big difference between theory and practice. In theory the value of a company is determined by hard facts and figures. In practice numerous other factors, which are difficult to quantify, play a role.
Rijk held up the beer company AB InBev as an example. Its culture (or DNA) is to grow by making large acquisitions. The strategy is not about building brands but more about cost cutting and margin growth. They are very successful in financial engineering and create large synergies in the takeover process. A recent example is their bid on rival beer company, SAB Miller.
Gutiérrez said there was also time to discuss the reasons behind the numerous takeovers. According to Rijk, management's ambition played a key role. They want their companies to grow partly because their remuneration is based upon key figures like sales. After the takeover, management often forget to manage the business and this is seen as the most important reason behind so many failed mergers and acquisitions.
The financing of a takeover was also discussed. Rijk believes that deals with a net debt/EBITDA ratio between 2 and 3 are easily financed. A ratio that is higher is more difficult to be accepted by banks.
WUP 6/12/2015
by Anesca Smith & James Wittenborg