Allegations of Student Visa Abuse at Public Universities
It is about to become more difficult for students from certain non-Western countries to obtain a study visa in the Netherlands at public universities. A number of public universities in the Netherlands have been following admissions processes that do not properly vet academic performance or financial stability. As a result, NRC reports that according to its research, many universities of applied sciences face problems with students applying for student visas to enter the country who then "disappear into illegality" ("in de illegaliteit verdwijnen"). What this terminology means was not fully elaborated by NRC.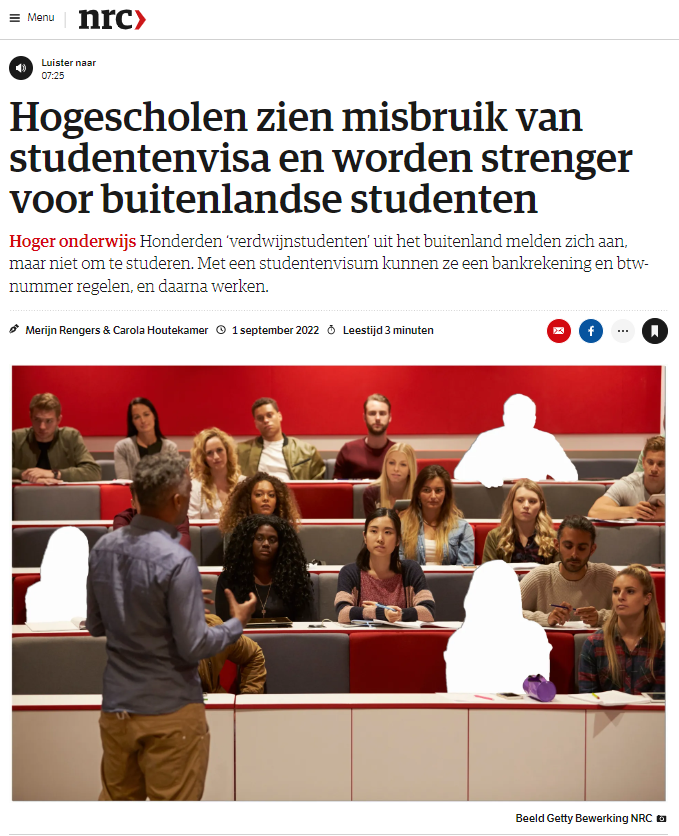 It should be noted that, at present, there are no official statistics for the Netherlands on how many foreign students engage in this practice, nor is there information on direct negative outcomes. There is also virtually no means of verifying whether dropping out upon entrance into the country was the original intention of the students in question. However, colleges like Saxion and the Immigration and Naturalisation Service (IND) argue that, in relation to their admissions practices, this is happening at high enough rates and with a negative enough impact to warrant a change of policy.
In response, Dutch educational institutions are tightening their admissions criteria. Additionally, the IND is subjecting certain student visa applicants to closer scrutiny. This means student visa applicants from the countries in question will face harsher stipulations and payment requirements compared to those from other regions. This change will be largely directed toward non-EU students from low-income "risk countries" including Bangladesh, India, Nepal, Nigeria, Pakistan and Sri Lanka. According to NRC, currently, most applications to Dutch universities of applied sciences are rejected from these nations, following an influx of immigration.
The practice of promoting destination education in Europe appears to be a rising industry. There are reportedly dozens of agencies in capital cities like Dhaka, Bangladesh, promoting study visas to prospective students. According to the Association of Universities of Applied Sciences, there are indications that people smugglers are attempting to infiltrate the education system. At times, a school may receive dozens of similar or identical applications. When they are rejected, they simply move on to the next institution until the application is accepted.
The association is currently creating an official guideline for its 36 member schools.
Note: Wittenborg University of Applied Sciences is a private business school and not part of this association, but instead a member of the NRTO, the branch organisation for Private Higher Education. Wittenborg has already in place a careful and robust recruitment system that has for many years addressed these challenges.
What is the Impact?
The number of students who are actually accepted from these risk nations, despite media attention, is negligible, even with rises in immigration. For example, according to the Dutch Ministry of Education, the number of Bangladeshi students in Dutch programmes has quadrupled in recent years. In 2018, 110 Bangladeshi nationals were enrolled in Dutch higher learning programmes, which rose to 399 in 2021. This means that Bangladeshi students in 2021 comprised 0.384734061% of international students in the Netherlands.
According to a report from Nuffic, 103,708 international students were enrolled in Dutch institutions during the 2020-2021 school year. Nuffic says that 73.3% - about 3 out of 4 - came from the European Economic Area (EEA). The same year, Dutch institutions saw a slight drop in non-EEA students (26.7%, compared to 27.1% in the 2019-2020 school year). The greatest influx of students in the last academic period arrived from Germany. For the 2021-2022 school year, the top source-countries for foreign students are Germany, Italy, Romania, China and Belgium.
Putting the numbers into perspective
Saxion University of Applied Sciences specifically flagged the "disappearance" of students from Nepal and Bangladesh in 2017. For reference, as of 2022, 3,504 1st and 2nd generation Bangladeshis, and 2,652 Nepalis reside in the Netherlands. Together, Nepalis and Bangladeshis, student or non-student, comprise 6,156 out of 17,710,526, or 0.034758990218585264% of Dutch residents. As such, when observed objectively, sub-par academic and financial vetting processes put this smaller student population at significantly greater risk of harm than the host nation.
Paying for Certain Institutions' Shortcomings
Reasons behind so-called student visa fraud are myriad. There may be a gap in understanding between what a student thinks they are legally entitled to, and which rights are afforded to them in actuality. They might be eager to exit a country whose economic turmoil has made normal life difficult or even unsafe. The student might be from a privileged background and has simply decided that, since they can afford it, they would like to pay the fees for a student visa to live in another country.
In many cases, a student whose financial situation has not been properly vetted wants to keep studying, but they cannot afford to and have to work to support themselves. They might re-register with the IND as a self-employed person. As time progresses, they may be unable to or simply choose not to return to their studies. Although the IND says it is investigating this, it should be noted that this is a completely legal course to take in the Netherlands, although it is not ideal for students to do this in large numbers.
To avoid this, students from so-called risk countries will be required to transfer their full tuition prior to their arrival, they must prove they are financially stable and take digital interviews with their prospective school. They will also be made to pay the IND fees upfront. Colleges will not be allowed to reject students simply on the basis of their origin.
Alternatively, a student's academic credentials and ability may not have been properly evaluated before they are admitted. This means that a student may come here and struggle to survive their chosen academic programme and end up dropping out. In certain circumstances, students may become disinterested in following the proper legal channels for residency and embrace an "off-the-grid" undocumented lifestyle. That results in the government having little oversight on their whereabouts, living situation or their safety and well-being.
The individual assessment of candidates is starting to catch on at public universities in the Netherlands, but it will likely put strain on the capacities of those universities as yet unused to the practice. Wittenborg is certainly not effected as it has all measures in place, for many years already.
WUP 5/9/2022
by Olivia Nelson
©WUAS Press