Activity is Part of Senior Lecturer Bert Meeuwsen's PhD Research
Six Wittenborg MBM students specialising in Human Resource Management participated in an educational event coordinated by senior lecturer Bert Meeuwsen. The activity is part of the PhD research Meeuwsen is conducting at Leiden University, titled "Cross-Cultural Business Ethics Educational Intervention Exploratory Study", which investigates the role of educational interventions in helping students self-develop business ethics virtues (read more here).
All students who participated in the session have been taking the High-Performance Leadership module, taught by Meeuwsen. A seventh student who is also pursuing a master's degree in Human Resource Management, Faezeh Yavarnejad, joined the activity as an assistant, observing and monitoring, with the goal of collecting material for her thesis on how master's modules and lecturers address the subject of business ethics.
During the session, students were required to analyse twelve moral dilemma scenarios individually and to decide whether those situations could be classified as ethical or legal dilemmas. The activity was conducted with the aid of the Moral Dilemma Analysis Tool (MDAT), which Meeuwsen had previously developed and trained the students to use. After the analysis of the scenarios had been concluded, the results were exhibited in a diagram, which detailed whether participants considered most of the dilemmas to be of an ethical or legal nature.
The students were actively engaged and presented valuable suggestions on how the research can be further developed, according to Meeuwsen. "This exploratory study provided wonderful opportunities for collaboration. The students realised that there was a problem with the way the questionnaire was organised and made suggestions on how to solve it, so that it works better the next time it is applied. This is one of the things I wanted to achieve, because it is always important to double check research," he said.
Meeuwsen also pointed out that the participants gave him positive feedback. "They told me that, by participating in the High-Performance Leadership module and in this activity, they felt they were developing themselves and improving their business ethics competencies. The preliminary results of this study are promising and indicate that the assistance of lecturers and external tools could contribute to the self-development of ethical business virtues by students, but this will be further tested over the coming years."
Faezeh Yavarnejad, in her role as student assistant, described the activity as a great experience, adding that it provided her with useful insights. "It is a really interesting exercise, because it exposes participants to real-life situations in which it can be difficult to tell what is right and wrong. This activity prepares students for the business dilemmas they might encounter in their careers, and can open their eyes and help them approach these challenges from different angles," she said.
By the end of the High-Performance Leadership module, students will be required to deliver a short reflection concerning their participation in the session, as well as an individual and a group assignment.
According to MBM student Sara Shahidi, her participation in the module has helped her develop important managerial skills, even considering her previous experience as the head of a project management office in Iran. "This module has changed my mindset and given me a broader view of management, especially when it comes to ethics. My mind used to be a bit binary, and I tended to look at any situation in a black-and-white way. Now, I have become more flexible due to the knowledge I have gained," she says.
Shahidi believes that studying business ethics is vital for professionals. "Each decision we make regarding our business has an impact, and when there is a moral code from the beginning, we can avoid any future consequences that could be a threat to our business and negatively affect our career."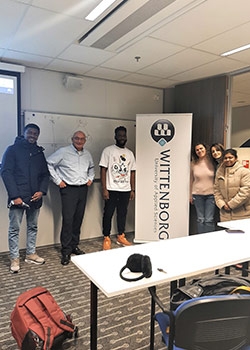 Collaboration between Lecturers
Prior to the educational intervention, the students had performed other activities through the High-Performance Leadership module, such as reading academic literature, attending lectures and answering questionnaires.
One of the questionnaires answered by participants was based on the BELS scale, which was developed by Wittenborg assistant professor Fahad Shakeel during his PhD research. Shakeel also participated by discussing the overall results of the questionnaire with students. In the following days, he provided each student with individual feedback on their results.
Shakeel explained that this is one of the first few studies where the BELS scale has been used, after being validated during his PhD research. He added that he is satisfied to see that its preliminary results are aligned with his previously published work. "One of my earlier studies sees the development of ethical leadership competencies as a process, with defined stages and behaviours. The students' responses show a pattern that puts them into one of the initial stages of development, both individually and as a group. Bert will repeat this experiment the other times the module is offered, but this is definitely a promising beginning for both the BELS scale and Bert's research," he said.
WUP 8/2/2022
by Ulisses Sawczuk
©WUAS Press