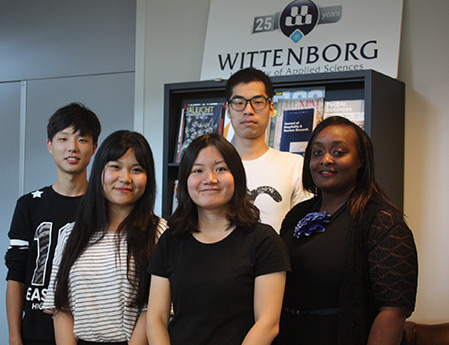 Four students from the Shanghai Business School are currently following a packed Summer School Programme at WUAS. The course aims to give students a first-hand experience of European education and culture.
The 4-week course, held at Wittenborg's Apeldoorn campus, will be a mix of academic content and social activities, including several trips to major Dutch cities such as Amsterdam, Rotterdam and the country's administrative capital, The Hague, which is also home to the International Court of Justice and the International Criminal Court.
All the visiting students specialize in Hospitality Management. At least two students, Gerry Wang and Sam Wang, indicated that they would be interested in furthering their education at some stage in the Netherlands. "It is a beautiful country with kind people and lots of fresh air," Sam enthused. Gerry said they were happy with the programme so far. "Everything is very good and we learn a lot about the cultural differences between Shanghai and the Netherlands."
Asked about her favourite aspect of the Netherland so far, Shanaah Wu, exclaimed: "The milk and yogurt! The waffles they make here are also delicious." Students were also blown away by the beautiful Dutch landscape. "There are lots of trees. In China the trees are tiny," Gerry said.
The Summer School is led by Lucy Omwoha, an alumnus from Wittenborg and the University of Brighton in the UK who completed her Master of Science degree in International Event Management last year. Omwoha said in the beginning the Shanghai students were "a bit reserved" but are making big improvements in their studies. The academic part of the course focuses on improving students' academic English skills as well as teaching them the basics of Research Methodology.
The students have already visited the Royal Summer Residence in Apeldoorn, Het Loo Palace, and they've had an excursion to Amsterdam after receiving a lesson in Dutch culture from Wittenborg Admission Officer, Florian Oosterberg. This Friday they will make a trip to tourist-hotspot, Giethoorn, an old traditional village which is known as the "Venice of the North" because of its numerous waterways and fairytale appearance. It boasts 180 little bridges and is very popular with Chinese tourists.
The Summer School ends on 14 August with a Farewell Party and Dinner.
WUP 02/8/2015
©WUAS Press
by Anesca Smith