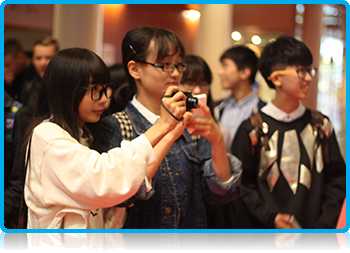 WUAS today welcomed ten exchange students from the Shanghai Business School accompanied by one of their lecturers at the Apeldoorn campus today. The group from Shanghai will enjoy almost a week's stay in the Netherlands with several educational and fun activities planned around their visit.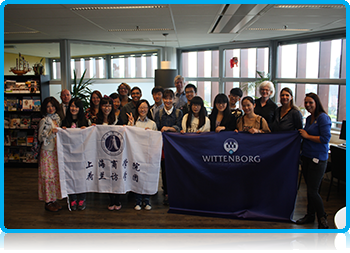 This visit follows a trip made by students from Wittenborg to the Shanghai Business School in June this year as part of an International Project Week. A month earlier high-level education officials from the Shanghai Business School also visited Wittenborg and held talks in which an exciting partnership between the two institutes was provisionally agreed on.
Yesterday's arrival in Holland saw the group excited and eager to learn about the Netherlands albeit a bit tired from the long flight from Shanghai to Amsterdam's Schiphol airport. "We are a bit sleepy!" one of the students laughed.
They were welcomed today by Wittenborg directors Peter Birdsall and Maggie Feng. Birdsall gave some factual as well as some fun information about the Netherlands and Wittenborg's long relationship with the Shanghai Business School. "The Netherlands is a small, densely populated country, but has one of the top economies in the world. Apeldoorn is its 10th biggest city and one of its greenest," Birdsall said. (editor: actually, Apeldoorn is currently the 12th largest.)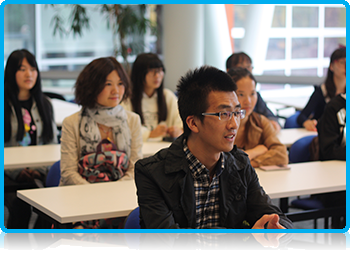 Later, at an informal coffee break they were introduced to Wittenborg's international members of staff, toured the university's premises and will also get an opportunity to meet students later.
During their stay the visitors will get a glimpse of student-life at Wittenborg and will also experience some real classroom-lectures.
They will also see the cultural side of the Netherlands, including a visit to the Dutch royal family's summer residence, Het Loo Palace, and a day exploring the capital city, Amsterdam on Saturday.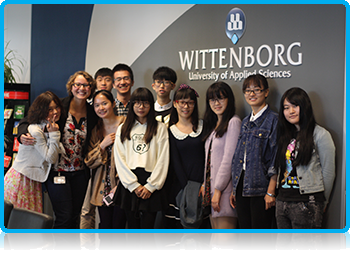 WUP 2/10/2014
©WUAS Press
by Anesca Smith