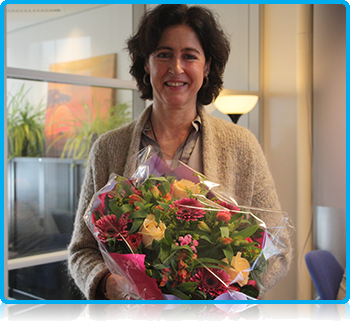 WUAS said goodbye to long-standing staff member and senior lecturer, Karin Pelle, on Monday.
While colleagues expressed sadness about the loss of a valued member of the Wittenborg team, they wished her well in her next endeavors. Besides being an exemplary and loyal staff member she undoubtedly made an impact on the students she taught.
One such student, Maike Nuyken from Germany who will be graduating on Friday, said Karin was an inspiration to her. "She managed to stay so calm, friendly and supportive during project weeks even when things were chaotic and she had to manage so many students."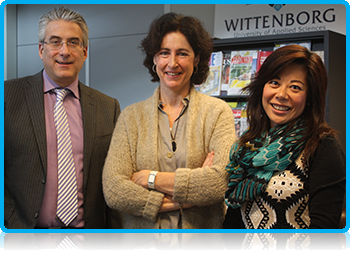 Karin has been with Wittenborg for more than 12 years and specialized in Marketing and Communication, Presentation Skills, Tutoring and External Relations. Apart from being a teacher, she was also a tutor, Project Week teacher, Internship Coordinator, member of the Examination Board and represented Wittenborg at all kinds of events.
In the last two years Karin has played an especially important role in establishing the Master of Science programmes MSc Hospitality Management, MSc International Event Management and MSc International Tourism, as well as helping coordinate the international Bachelor in Hospitality Management (the EuroBA) which see students studying in at least three different countries.
She graduated from Groningen University, after combining both her studies, Spanish and Business Administration, in an internship near Barcelona. During her work at retail banks – Postbank and ING - she continued studying by taking several banking courses.
After working eight years in consumer marketing and retail banking, she and her family moved to the United Kingdom where they spent two years in the North of the UK. Living in the country with (then) three small children, she decided not to work for the time being.
After returning to the Netherlands, she was asked to replace a communication teacher at what was then the Hogeschool Wittenborg (Dutch speaking Wittenborg) in 2002. Gradually she took on more classes in marketing and communication and started teaching international students for WUAS in 2009.
WUP 2/2/2015
©WUAS Press
by Anesca Smith