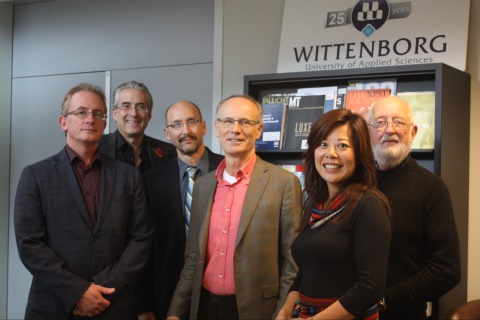 WUAS recently hosted a delegation from the University of Frederiction in Canada, which included Mr Kjetil Sandermoen, Board Chairman, Mr Don Roy, President, and Dr Kenneth Green, Provost.
Fredericton is an online university offering certificate, diploma and degree programmes. Its programmes are designed for working professionals who want to advance their careers and upgrade their education with minimal disruption to their work and personal life.
Wittenborg's Board of Executives met with the delegation to discuss possible collaboration opportunities between the two universities in the future.
Such a cooperation would mean a strengthening of relations between Wittenborg and Canadian academics. Just last week visiting professor James Bowen, from the University of Ottawa, managed one of Wittenborg's Project Weeks for the 3rd successive year, working with Phase 1 & 2 students.
Bowen, who also joined the Canadian delegation on Friday, is part of an international team of developers WUAS has been working with since 2012 to create the world's first gaming-based higher education learning curriculum – an MBA in which students do their learning within game-based simulations.
A gamefied MBA is the use of simulations or games as a way of teaching and practicing the material and concepts in a business environment. The simulation tests students on their entrepreneurial capabilities in areas including investment, hiring and firing, venture capital, risk management, product development and supply chain management.
WUP 13/11/2015
by Anesca Smith