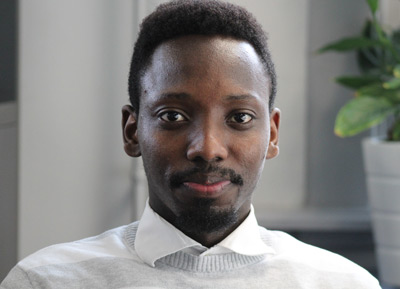 Rwandese student, Alexis Musita, is going where no other Wittenborg student has gone before - to do two IBA specialisations almost simultaneously.
Alexis plans to graduate with a Bachelor IBA in Logistics & International Trade as well as in Economics & Management. This means he not only had to do more modules than the average Bachelor's student, but also two internships and two graduation assignments (GAs).
"I think it will definitely add value to my work prospects when I look for a job. I had the time so I thought: Why not? Education is very important in my family."
Alexis came to WUAS in October 2014 from his home in Kigali, Rwanda. "I chose Wittenborg because of the multiple entry dates, and the Netherlands because it provides quality degree programmes in English."
After finishing most of his modules for one programme, he wrote to the exam board in 2016 to ask permission to do another programme, receiving approval 3 months later. He did both of his internships at Wittenborg, working a total of 8 months as education office assistant with added responsibilities for the second internship, which is close to being completed. "I learned so much working for an international organization like Wittenborg and was able to apply some of the modules I learned in class, like Management, Leadership and the Organisation."
His first graduation assignment will look at the impact of foreign direct investment in Rwanda in terms of unemployment in the travel and tourism sector. For the second graduation assignment he will do a Business Plan.
While studying at Wittenborg, he is staying in Apeldoorn and finds it a good, quiet city with not too many distractions - if you are as focused on your studies as he is. His advice to prospective students is to "manage your time well, motivate yourself and work hard."
After his studies he will look for a job in the Netherlands, but plans to go back to Rwanda eventually. Doing a Master degree and his PhD is definitely on the cards.
WUP 17/4/2017
by Anesca Smith
©WUAS Press