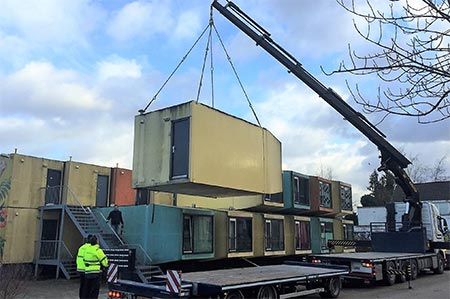 It is the end of an era! After more than 5 years the colourful Spaceboxes - which provided accommodation to dozens of international students from WUAS in Apeldoorn - are being removed.
The Spaceboxes - ship containers meant as a temporary housing solution after Wittenborg moved from Deventer to Apeldoorn in 2010 - will get a new lease of life. They will be taken over by Welman Units in Almelo. Already last week, the 24 containers could be seen forklifted one by one in Molendwars Street, not far from Wittenborg's Spoorstraat location.
With Apeldoorn not yet developed as a student city with the necessary facilities, Wittenborg acquired the Spaceboxes to ensure international students have a place to stay when they arrive in the Netherlands.
Today, the school has grown to more than 600 students from about 80 different nationalities, necessitating a more permanent and affordable housing solution. In cooperation with the Apeldoorn municipality (gemeente), the university is now continuously working towards repurposing empty buildings in the city for student accommodation.
Last year, Wittenborg invested for the first time in student accommodation by purchasing 5 apartments in the south of Apeldoorn - about 3km from its campus at 500 Laan van de Menserechten.
Last week, at the annual staff dinner, Wittenborg's chair of the executive board, Peter Birdsall, said the university will also develop a campus in the centre of Apeldoorn, which will house about 35 students.

WUP 19/1/2017
by Anesca Smith
©WUAS Press