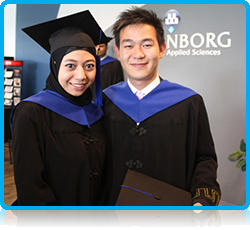 As the joint Master degree programmes in International Event Management, International Tourism Management and International Hospitality Management get underway at Wittenborg University, the UK's Quality Assurance Agency (QAA) and the British Council have announced a new partnership, aimed at "safeguarding and promoting" the reputation of UK transnational education.
According to the British Council, there are now more international students studying for a UK degree abroad, than at home and they have calculated that there are currently around 571,000 international students studying for UK qualifications abroad, compared to 488,000 in Britain.
The aim of the partnership is to help ensure that the quality assurance systems implemented in the British Higher Education system are also implimented in the off-shore locations and campuses of UK Universities.
Wittenborg University and the University of Brighton jointly offer the Master of Science programmes in Events, Tourism and Hospitality Management. The programmes are validated at the Wittenborg campus in Apeldoorn by the University of Brighton, and are taught by a mixture of lecturers from both institutions. The University of Brighton applies its Quality Assurance to all its offshore programmes at campuses abroad and Wittenborg also imposes its own strict Quality System, developed as part of its FIBAA and NVAO accreditation cycles, on the Master and pre-Master programmes.
Quality assurance for the double degree "EuroBA" - the Bachelor International Hospitality Management, in which students study at at least three European institutions falls under Wittenborg's IBA accreditations (FIBAA and NVAO) and the Validation at partner institutes in Germany, France, Switzerland and Spain, by the University of Brighton.
According to University World News, "The British Council said that courses offered abroad were expected to expand under the (UK) government's international education strategy, which was published in July, and with the formation of an International Education Council to champion the strategy"
WUP 11/09/2013
Sources:
University World News on
Transnational Education:
http://www.universityworldnews.com/article.php?story=20130907074507131
Partnership to protect quality of UK transnational HE
http://www.universityworldnews.com/article.php?story=20130906074522767