As Number of Indian Students in UK Plummets, an Indian Student at Wittenborg Explains Why he Chose Holland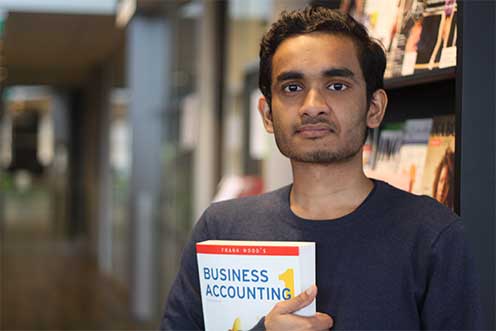 "Holland is a very affordable place to study and the people are friendly" says Indian student Benchamin Prince on why he chose to study in the Netherlands when it came to sifting through countries abroad to continue his education. Prince is a Bachelor IBA student at WUAS specializing in Information Management.
According to the Netherlands organisation EP-Nuffic the number of Indian students coming to the Netherlands has almost doubled between the 2012-13 and 2014-15 academic year, from 550 to about 1 000. This number was set to rise even further in the 2015-16 academic year.
Nuffic attributes the heightened interest from Indian students in the Netherlands to factors such as the high-quality of education the country offers, the high number of English-taught programmes, career options and a welcoming environment for international students. It says Master programmes in Engineering subjects are by far the most popular degrees sought after by Indian students in the Netherlands.
However, it might also have something to do with tougher visa regulations in the UK encouraging Indian students – for whom the UK has traditionally been one of the most popular study destinations in the world – to seek solace elsewhere in Europe. The number of Indian students arriving at UK universities has halved from 39 090 in 2010-11 to 19 750 in 2013-14 the Financial Times reported last month.
IBA student Prince says he plans to make use of Holland's so-called ''zoekjaar'', which allows international students 12 months to look for a job after graduation. Graduates are also granted lower wage requirements in order to qualify for a work permit. As an Information Management graduate there will be many opportunities in the Netherlands, as ICT technically 'savvy' graduates are hot sought after by companies in Holland.
In contrast, the Home Office in Britain abolished the post-study work visa for international students 3 years ago which allowed all non-EU students 2 years to look for a job after graduation. Under the current system students have only 4 months to find employment that adheres to minimum salary requirements.
Prince, who transferred from Saxion University of Applied Science to Wittenborg last year, said he applied to several Dutch universities and Wittenborg responded "quicker than any of the others". "That definitely impressed me."
The latest statistics from Nuffic show that the majority of Indian students coming to the Netherlands studies 'Techniek' (engineering).
Source: EP-Nuffic
Source: Financial Times
WUP 22/10/2015
by Anesca Smith
©WUAS Press