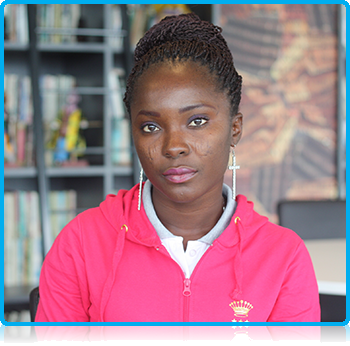 WUP 26/5/2014 – New Bachelor of International Business Administration Students Starting in Block 7 talk to WUP - One of the new students starting Block 7 at WUAS last week is Maureen Jakpa, from Nigeria where the recent abduction of 200 schoolgirls captured worldwide attention. Maureen spoke to Wittenborg News about the mood in the country and not allowing the incident to hold young girls like her in a prison of fear.
Maureen, what will you be studying at Wittenborg?
I will do an IBA in Economics and Management (first phase).
Why did you choose the Netherlands to study?
What attracted me was the good business environment - I heard a lot about it. Back home I have a little business of my own (I sell beauty products like perfume), so I needed somewhere where I could gain more knowledge about running a business.
How long have you had the business?
Close to a year.
What are the most important lessons you have learned about having a business? What I've learned is that it makes one be responsible. You learn about different types of people, how to interact with them. Also, I employ two people who was jobless. They will in turn be helpful to their own family and community.
What happens to your business while you are over here?
It will continue operating. I have a younger sister who will look after it. Most of the things I buy I do online and the money from my customers are paid into my account. I have a stock book here. At the weekend we go through it on Skype. That way I know what things are selling and what the customers need.
Are Nigerians in general entrepreneurial-minded?
Yes, you will see people selling water just to make a living!
What are your thoughts about these girls who were abducted?
It is really not too good. I think its just a political strategy - people who want to divide the country. I pray they bring them back. I go through the news every day to see what's happening with them. It is not good keeping somebody against their will.
Has it made young girls in Nigeria more afraid?
Perhaps in the state where they were abducted girls will be more conscious of what they're doing. Maybe they won't even like to go out that much, but not in my state and the rest of the country.
What do you think is the biggest misconception people have about Nigeria?
So many people think Nigeria is bad. They don't see anything good coming out of Nigeria. In every country there are bad eggs.
Do you plan to go back to Nigeria after your studies?
Yes, since I already have a business there, I plan to go back. Maybe if I get known around the world, I can go from place to place.
WUP 26/5/2014