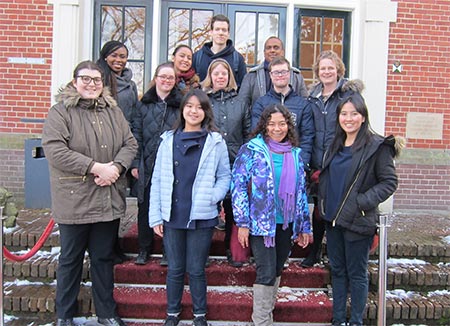 Master's students from WUAS enjoyed not one, but two company visits last week to give them insight into the various approaches of tourism operators in the Gelderland region.
The students visited a commercial bungalow park, Landal Miggelenberg - which employs a very Dutch concept of holidaying, and is part of the Landal Greenparks Group. This was followed with a visit to Parc Spelderholt, which encompasses a hotel, castle and estate in the beautiful Veluwe area. What makes the latter unique is its social responsibility approach to tourism by employing special needs students.
The Wittenborg students all follow MSc programmes in either International Hospitality Management, Event Management or Tourism Management. It was their first external trip for the year. They were accompanied by Wittenborg's work placement coordinator, Adrianne
Jonquière-Breure.
She said the aim of the visit was to give students a broader view on hospitality and tourism. "We visited two very different organisations – a commercial company and one where social responsibility features strongly. Landal holiday bungalows is a very Dutch concept which is now also expanding to the UK. Students need to know the hospitality industry does not only mean the hotel business."
At both facilities students were given an introduction to the business, a tour around the premises and were also allowed to ask questions.
One of the students on the trip was Gabriela Padilla from El Salvador who spoke enthusiastically about the visit to Landal. "The manager explained really well how the operation works, what they do to stay ahead of the competition and their plans to grow by 3% in the next 3 years."
WUP 21/2/2017
by Anesca Smith
©WUAS Press