More Wittenborg Student Internships at 5-star Echoput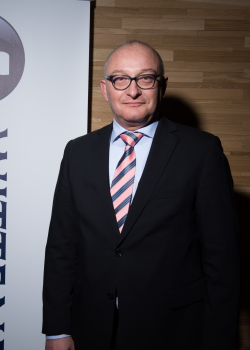 Rolling Internship for Wittenborg Students
Relations between WUAS and the 5-star Hotel de Echoput have deepened significantly over the past year with the hotel now offering a rolling internship to students from Wittenborg.
De Echoput is Apeldoorn's only 5-star hotel and is well-known in the Netherlands. It is now setting its eyes on gaining international prestige. This summer it will welcome the third international student from Wittenborg, Kossi Hillaire Aziamale from Togo, to work as an intern. He will start from 1 August, just after completing another work placement at Wittenborg.
De Echoput wants to grow gradually from a Dutch 5-star to an internationally renowned 5-star hotel and restaurant. To this end, Wittenborg's External Relations Officer and Head of the School of Education, Bert Meeuwsen, delivered a lecture to Echoput staff members on Monday. He spoke on "The Effect of Change on Staff Members in an Organisation" as well as "Cross-cultural Understanding of People from Different Backgrounds in the Workplace". Meeuwsen also runs his own consultancy, advising organisations, providing executive coaching and intermediate services.
The hotelier and owner of De Echoput, Mr Karel Klosse, said in an earlier interview: "Wittenborg supports us in furthering our professionalism and internationalisation. We have many ideas in terms of our restaurant and hotel services where interns from Wittenborg can be of assistance."
Aziamale was preceded by two other IBA students. One, Muhammad Usman from Pakistan, was tasked with doing a feasibility study on the internationalisation of the hotel and restaurant's services. Before him, there was Vietnamese student, Trang Ta, who helped out in the marketing and communication department.
WUP 7/7/2018
by James Wittenborg
©WUAS Press