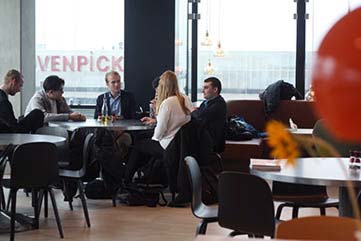 It has been almost 3 months since WUAS opened its new location in the heart of Amsterdam where it offers an IBA in Entrepreneurship & Small Business. What are the impressions of the first batch of students after surviving the first 2 blocks of the academic year?
Magnus Andersen, from Oslo in Norway, was in Amsterdam with his dad on business when he visited Wittenborg and "signed up within 2 hours". "It was a happy coincidence," he says. "It is really great that the university has 6 entry dates per year." He chose to study in the Netherlands because Amsterdam is a ''city that never sleeps, almost like New York."
"I also lived in London, which also runs 24 hours a day, but it is too big to travel around quickly. Amsterdam is small but still has a bustling city life. I chose Wittenborg because the classes are small and intimate – I don't just want to be a number. You also gain knowledge that you can apply." He plans to follow in his father's entrepreneurial footsteps in the shipping industry after graduation.
Wittenborg encourages 'entrepreneurial mindset'
Coen van Hees, a born-and-bred Amsterdammer, says he chose Wittenborg because he felt the "entrepreneurial mindset" at the university suited him better than the hotel industry for which he trained.
"I really enjoyed the first 2 blocks – especially the module 'Intercultural Management', which dives into understanding the minds of people. I also feel very passionate about business," says Van Hees who has already founded his own company AMS Design and who won a scholarship of €10 000 from Wittenborg earlier this year. Van Hees, who lived for two years in Chicago, says his ambition is to expand his own company and advise other companies on concept design.
Entrepreneurship means leadership, innovation and creativity
Nichola Addo, from Ghana, says: "I was particularly impressed by the way the lessons were taught after following some classes as an observer at Wittenborg Amsterdam. I truly enjoyed the engaging way of teaching whereby students could learn from each other by sharing their unique ideas and thoughts. The school itself suited my charismatic personality and I strongly believe studying at Wittenborg will give me the ability to utilize my gifts and talents."
Nichola says entrepreneurship to her means leadership, innovation and creativity. "It also means aligning my actions with the inner wisdom of who I really am and what I was born to do. Making something out of nothing!"
Friends all over the world

David Osmukhin from the Ukraine says Wittenborg's IBA in Entrepreneurship & Small Business is "pretty unique". "You don't find the concept in many other universities. Initially I wanted to study in Canada but being in Holland means I can visit my family 3 or 4 times a year." According to David, obtaining a visa to study in Holland was rather easy. "I only waited about 3 weeks or so after applying."
He also made friends quickly in Amsterdam.
"I don't think it's about the city, but rather your personality when you move to a different country and want to make friends. If you are open, you can make friends anywhere in the world." One change he suggests the university makes is that language classes are also offered at the Amsterdam location and not only at its headquarters in Apeldoorn.
WUP 25/11/2015
by Anesca Smith
©WUAS Press