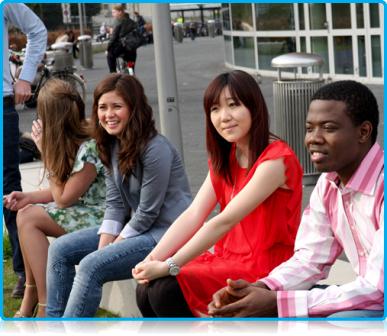 As one of the most international institutes in the Netherlands, with over 80% of its students coming from outside the country, Wittenborg brings a genuine boost to the local economy. Countries who host international students gain considerable income from their presence, a new study commissioned by the German Academic Exchange Service has shown. The study compared six European countries.
In recent years, the Apeldoorn University has attracted students from more than 70 different countries, from all walks of life and from different sectors of society. The current yearly number of 350 Bachelor and Master students brings an estimated 7 million Euro a year to the Dutch (Apeldoorn) economy!
In the Netherlands the state gained more than €2 522 in tax revenue per year for every international student during their studies and if they enter the labour market, a further €19 389 were added to the treasury. However, it is Germany and Austria who recovered the cost incurred by the state in hosting the international student the quickest.
According to the study, if only 30% of international students remained employed in Germany after completing their studies, the state's investment would be amortized within 5 years and 4, 5 years in Austria. This is compared to 6,5 years in the Netherlands and almost 17 years in Switzerland! The slow return in Switzerland has been ascribed to the combination of high costs for providing places of study in Switzerland and the low tax rates in that country.
"The money international students spend on their accommodation, living expenses, leisure and travel activities translate into positive effects for the economies of host countries – such expenditure gives rise to gross value added and job creation," according to the study that was performed by Prognos AG.
If international students remain in a host country following their studies and enter into gainful employment, that country will benefit from direct taxation of their income and social insurance contributions. In the short term the expenditure of international graduates results in value creation and employment. The extent of such benefits depends on how many international students decide to stay in the host country.
In Switzerland, due to the high cost of living there, students spend around €19 500 per annum compared to €11 400 in the Netherlands. The cost of living is lowest in Poland, where students' expenditure amounts to €4 800.
When the Netherlands' Central Planning Bureau (CPB) investigated the effect of internationalization on the Dutch economy in 2012, it estimated that if one in five international students (19%) continue working in the Netherlands after their study, it contributes about 740 million euros to the economy. The CPB considered 19% a conservative estimate.
Source: Prognos AG
WUP 2/2/2014
by PB & Anesca Smith
©WUAS Press