Indonesian Private Universities Want Stronger Ties with Netherlands
Indonesia is taking steps to forge stronger academic relationships with the Netherlands and WUAS, the education and cultural attaché of the Indonesian Embassy in The Hague, Mr Bambang Hari Wibisono, said on Monday.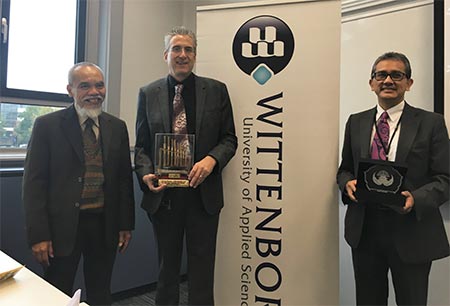 Wibisono was addressing almost 80 senior Indonesian academics visiting Wittenborg for a joint seminar. Participants are all rectors, vice-rectors, deans and senior lecturers from private universities in Bandung, West Java.
According to Wibisono there will be more extensive collaboration between Indonesia and the Netherlands as well as with Wittenborg, learning from best practice and international exchange – particularly in the area of vocational training for the professional world.
The director of the Private Universities Organisation, Prof H. Endang Komara, M.Si, said the aim of the visit is to develop education in Indonesia by learning from universities abroad. The theme of the seminar was: "Strategy Towards High Quality Education".
Wittenborg's chair of the executive board, Peter Birdsall, said the visit is a "fantastic opportunity" to learn more about higher education in Indonesia. "Higher education in Indonesia is predominantly private, which fits perfectly with Wittenborg's vision of continued international development.
"As far as collaboration is concerned, we hope to develop joint-degree programmes and research programmes in West Java."

WUP 7/11/2016
by Anesca Smith
©WUAS Press