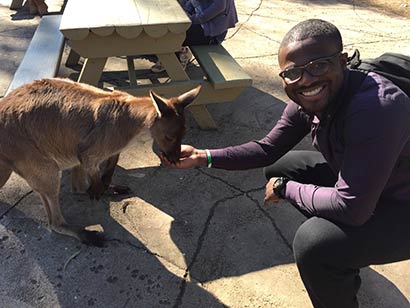 Study at WUAS and the world is your oyster! Students and graduates literally find internships and jobs all over the world. This was yet again proven by IBA student, Reynolds Boateng, who just returned from Sydney, Australia, where he did an internship at international company ISS Facility Services in its South Pacific office. Reynolds was born in Ghana but was raised in the Netherlands.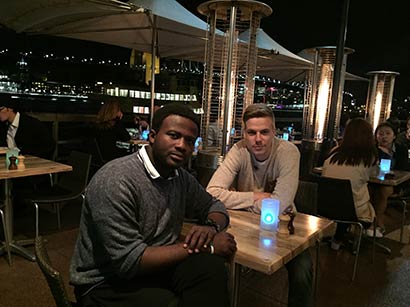 He is the second Wittenborg student the past 6 months to do an internship in Australia. Dutch student, Elbert van der Waal, did his at the Hilton Hotel in Cairns. The two even met up for a drink at the Sydney Opera House! In an interview Reynolds, who is doing an IBA in Economics & Management, described the experience Down Under.
How did you end up in Australia?
I was struggling to find an internship and one day came across a poster for Stagehuis (a Dutch company specializing in finding international internships) in the Wittenborg staff room. I got in touch with them and they found me an internship in Australia.
How long was the internship for?
From 14 July to 24 November 2015.
What did the work entail?
My internship involved business improvement and financial administration. Typical activities included report constructions, scheduling meetings for my supervisor, business analysis and development as well as purchase order and payroll processing.
What was the most challenging part of the job?
The financial aspect.
What was the most valuable lesson you have learned?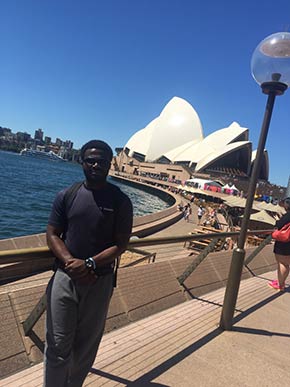 Always double-check your work before delivery!
How was the overall experience of Australia?
It was good. I developed a lot of social skills in general. The culture shock was not as huge as when I came to Holland. The most memorable experience was the people and the environment.
What did you miss about Holland?
Everything! From this trip I learned Holland is really home for me.
Why did you choose to study at Wittenborg?
It gave me the opportunity to expedite my studies. I would recommend studying here.
What advice would you give international students who just arrived here about getting the best out of their experience in Holland?
Get involved, be part of the school and its culture. Don't only focus on passing your modules. It will amaze you that in reality, life goes beyond what you studied from your modules.
Do you speak Dutch and do you think it's important to learn the language?
Yes, I do. It's important to learn the Dutch language because it is the main one in the Netherlands. That's the only way you can survive in the country.
What are your ambitions?
To have my own business.
WUP 8/12/2015
by Anesca Smith
©WUAS Press