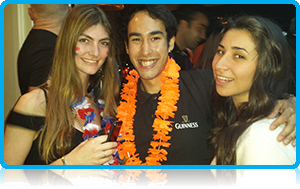 Update 11pm 13/6/2014 - The Dutch beat Spain in their opening match and WUAS Students watch together in the centre of Apeldoorn! Hup Holland!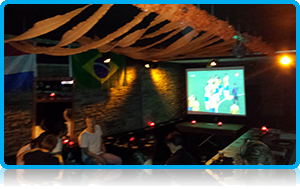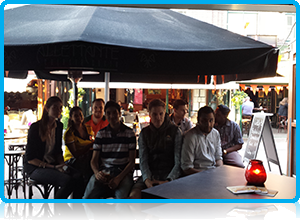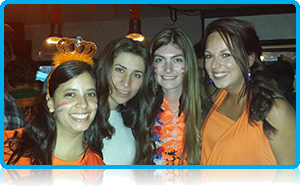 Last night the World Championship opening ceremony was broadcast live from Brazil and around 20 Wittenborg students got together in a pub in Apeldoorn to watch the first match on the big screen. With 17 of Wittenborg's nationalities competing in this year's world cup all students seem to have been caught by the football fever.
Last week the school launched a "Football Pool 2014". For only three euros students, teachers and staff members can try to predict the outcomes for all matches. Of course the best predictor wins the pool money. It's exciting things like winning a pool, your team winning a match and the constant speculations that make the World Championship loved by everybody.
WUAS students from Brazil, Iran, Nigeria, Cameroon, Colombia, USA, UK, Croatia, Ghana, Nigeria, France, Russia, Japan, Italy, Germany, Switzerland, Spain and of course the Netherlands will gather in the coming weeks to support their own and each other's home countries. It's events like this that bring the world together.
Yesterday Wittenborg's students gathered at cafe 'Willy's' in the Apeldoorn city center to watch the opening and today they will ( maybe even dressed in orange) gather again to support the Dutch team tonight!
WUP 13/6/2014