Wittenborg Staff Go All Out to Still Make Virtual Ceremony as Special as Possible for Graduates
First Online Graduation Ceremony at Wittenborg a Heartfelt Success
Wittenborg held its first entirely online graduation ceremony on Friday. Due to COVID-19 regulations, the 2021 Winter Graduation Ceremony could not proceed as usual, but the university of applied sciences still made an effort to keep traditional elements, like the commencement address, a student speaker and lecturers spotlighting each individual graduate.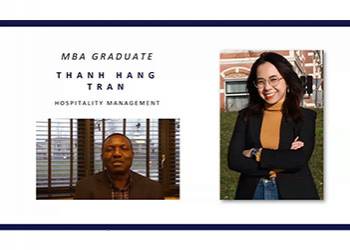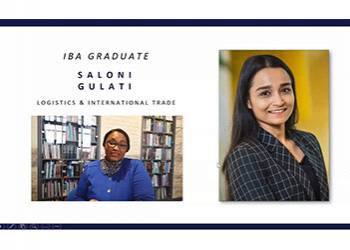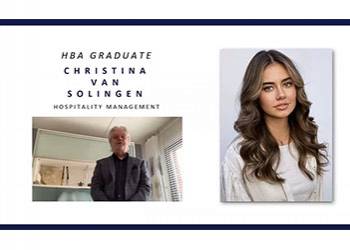 Wittenborg President Peter Birdsall addressed the challenges faced by students the past year and how the class of 2020/21 overcame them. "You graduated during a period which has been difficult for all of us," Birdsall said.
"We have been faced by lockdowns, an inability to access data, not being able to going to companies, speaking to people in organisations, which made the whole process of collecting data and writing Graduation Assignments more difficult. Many of you also had to do your final exams online. Enormous challenges for all of you. Therefore, we are very proud of you. We wish you all success for your new journeys and look forward to having you as alumni."
Birdsall said that "standing here in an empty school giving a presentation speech" is not something he would have anticipated. He expressed the hope that the summer graduation ceremony in July would be one that is in-person again with all the festivities and everyone being together. "I hope you will come back for that so we can congratulate you in person."
The keynote speaker at this year's ceremony was a young, successful entrepreneur from Apeldoorn, Marc van Gerrevink, who runs a 132-year old recycling company Van Gerrevink B.V., which tackles one of the most pressing issues of our time – waste pollution.
Van Gerrevink spoke extensively about what it takes to lead a company at such a young age – he was in his 20s when he's father passed away and he suddenly found himself in charge of a big company – the challenges he faced and how he overcame them.
"Having graduated as a mechanical engineer, I thought everyone understood reason and that I could lead a company in the same way you could perform an equation. I was wrong. I had good plans for the future but faced people who did not see the point of changing things, so I had to find a way to convince them. I, therefore, sought help. I hired a coach to improve my people's skills and spoke to more experienced entrepreneurs about my problems."
According to Van Gerrevink, this experience taught him some important lessons. One, you have to believe in yourself and what motivates you as well as the importance of asking for help when you need it. "Don't be too proud to recognise your own flaws and lack of experience," he told graduates.
Top IBA graduate Kavinga Ranaweera, from Sri Lanka, was chosen to say something on behalf of the graduates. "Thanks to the Wittenborg staff for sharing their knowledge and guiding us through the process, administration and daily activities of being a student, and for always being accessible to us.
"It has been such a privilege to be studying at a university of applied sciences like Wittenborg, which has not only prepared us academically, but also helped us to develop our hard and soft skills so that we can stand confidently in front of you today. Over the years, we have all arrived at Wittenborg, or in the Netherlands, with a few suitcases and mixed emotions of excitement and uncertainty. We were welcomed with open arms and inspired to be our best self from day one. Thanks to everyone who helped us to get to this moment."
WUP 06/02/2021
by Anesca Smith
©WUAS Press