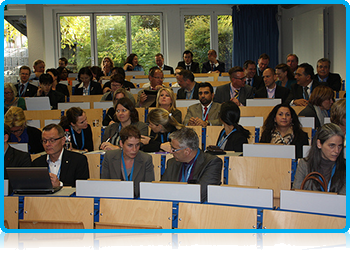 The EuroCHRIE Conference closed in Freiburg yesterday, with a number of final paper presentations, after a wonderful gala dinner evening at the Colombi Hotel, well known for its Michelin Star Restaurant.
The EuroCHRIE conference brought together more than 175 delegates representing some of the world's top hospitality schools, and saw the presentation of over 60 papers, ranging from subjects in hospitality to tourism and event management.
The networking between schools was an important theme of the conference, however the ideals of cooperative education, the combination of work and study were a recurring theme throughout the 4 days.
For WUAS, director Peter Birdsall represented, and he was joined by fellow board member Maggie Feng for the gala dinner. WUAS has been developing its School of Hospitality and Service Management (SHSM) since moving to Apeldoorn in 2010, and although its Bachelor of Business Administration in Hospitality management shares much of its business curriculum with the School of Business and Finance, SHSM now offers 3 one year Master of Science degrees in International Hospitality Management, International Event Management and International Tourism Management, currently with around 25 part time and full time students from 14 different countries.
WUP 20/10/13
by Wittenborg Team
©WUAS Press