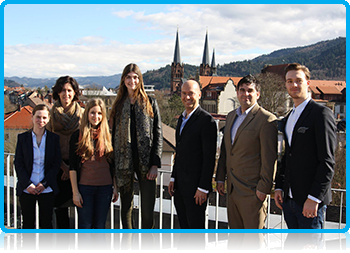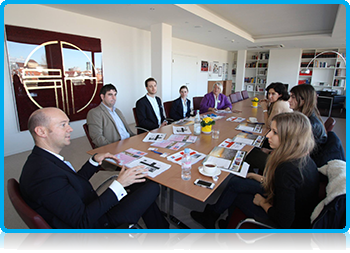 "WUAS students Bogdana Golovenko and Desneige Kronenburg visited ANGELL Academy in Freiburg- Germany on Monday the 17th-02-2014. Both students are following the EuroBA curriculum, a 3 year hotel school programme ( Bachelor of Arts in International Hospitality Management) that is offered in four different countries; First year inWUAS in Holland, second year at Angell Academy in Freiburg, last year in University of Brighton and (France)."
WUAS offers students a unique double-degree pathway, combining the EuroBA – a Bachelor of International Hospitality Management award offered by the School of Service Management and Sport with its own degree pathway International Business Administration in Hospitality Management.
The BA Hons International Hospitality Management is accredited in the UK and awarded by the University of Brighton. The Bachelor of International Business Administration in Hospitality Management is accredited in the Netherlands by the Netherlands and Flemish Accreditation Agency (NVAO) and in Germany, Austria and Switzerland by the Foundation of International Business Administration Accreditation (FIBAA). It is recognised around the world.
This course is a unique opportunity for students to engage in a totally European BA award that is learnt both in the workplace and by attendance at three internationally recognised colleges. The curriculum and its delivery is designed to reflect the needs of the hospitality industry for a flexible and innovative workforce who are able to meet the ever changing demands of the marketplace. Students who successfully complete this award can expect a challenging and rewarding career in a stimulating and exciting industry.
The EuroBA, a three year Bachelor degree programme in International Hospitality Management is offered by a consortium of 6 European Hotel, Hospitality and Management Schools, based in 6 different European countries.
Each of the institutes offers at least one of the three years of this very special programme. Students are expected to study each of their years at a different institute - therefore in a different country, giving them a truly international Europe – hence its "EuroBA" nickname!
WUP 21/2/2014
See ANGELL at http://www.angell-akademie-freiburg.de/