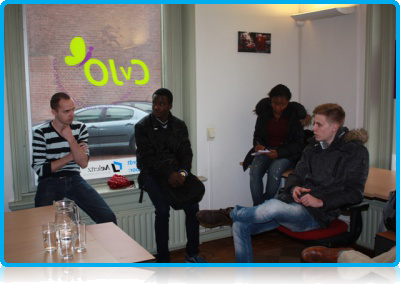 During the past week, Wittenborg Phase 1 and Phase 2 Bachelor students have been carrying out the third project week of the year, this time with a clear focus on entrepreneurship and new business development. One of the primary projects was designed by co-organisers "The Centre for Young Entrepreneurs", together with their partners Rabobank, Chamber of Commerce and Startersplein who want to establish a forum for (starting) entrepreneurs in Apeldoorn. Through this forum questions and problems of entrepreneurs will be categorized, clustered, and referred to (preferred) providers, to be answered. The city of Apeldoorn also instigated a project entitled "Apeldoorn: Students' City 2015", as did local consultancy company Cardies.nl, with their project researching the impact of their so-called" free marketing consults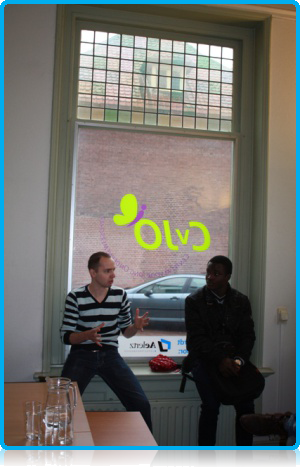 The local newspaper "de Stentor" reported the event in today's issue, as a sucess, highlighting the conclusions of the project group looking at the attractiveness of Apeldoorn as a town for students. At this time, Apeldoorn counts around 4500 students, however many more live in the town, but travel to other cities to study. As part of the project instigated by the local council, Wittenborg students interviewed many students at the Apeldoorn railway station, who were on their way to colleges and Universities elsewhere, to discover what they missed in Apeldoorn, by asking the question "how can Apeldoorn become more attractive to students".
The main conclusion seems to be, that students want a central place where they can meet, and socialize, but also network and discuss. Such a central student common room would provide a binding factor between students and the city, as well as students and institutions.
Another important conclusion is that students in and around Apeldoorn need more opportunity to meet with companies and employers, so that they can become aware of what options are available to them locally when they are looking for work placement, graduation projects and eventually work. A regular job-market for students held in Apeldoorn, for companies and organisations in the region is something that most respondents saw as essential if Apeldoorn wants to promote itself better to students.
The Centre for Young Entrepreneurs (Het Centrum voor Jong Ondernemerschap)asked the students to write a business plan that described an initiative that would allow young entrepreneurs to grow in Apeldoorn. Cardies.nl asked students to look at how their free Marketing Advice Module could be positioned on the market.
Melis Jan van Herikhuizen of The Centre for Young Entrepreneurs and Freek Hoogenboom, owner of Cardies.nl, were pleased with the results of the project week and the ideas that came from students. It is now intended that the ideas established during this project week will now form the basis of a 2nd project week to be held in April.
Project week instigator, WUAS's Karin Pelle, commented "We want to promote Wittenborg and her students more towards Apeldoorn's business community, so that students can be given more opportunity to research questions from business and help implement solutions".
WUP 21/12/2012
Sources: http://www.destentor.nl/regio/apeldoorn/wittenborg-zoekt-het-bedrijfsleven-1.3575844